Business Travel View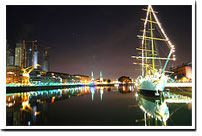 The Argentinean city of Buenos Aires is located on the west bank of the Río de la Plata. The Rio de la Plata is an estuary of the Parana and Uruguay rivers which forms a muddy fertile basin and the border between Argentina and Uruguay. Buenos Aires which is the capital of Argentina is also its largest port. In fact the residents of Buenos Aires are commonly referred to as 'portenos' which translates from Spanish as 'people from the port.'

Buenos Aires not only has the distinction of being the largest port in Argentina but it is the largest port i1n all of South America. As a result of its large size, it handles much of the container traffic for South America. Buenos Aires which is colloquially called 'Bue' is in fact the financial, industrial, commercial, and cultural hub of Argentina and one of the most prominent cities in South America.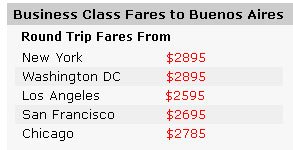 Buenos Aires which was occupied by Spanish colonists in the 16th century and which subsequently followed an open door policy for European immigrants in the 19th Century is a city which bears the distinct stamp of European style. This European influence is widely seen in real estate make up of the city which is characterized by wide boulevards, imposing architecture, restaurants and sidewalk cafes. So widespread is this European influence that Buenos Aires is sometimes referred to as 'the Paris of the South'. This port is home to approximately three million people who live in 50 districts called Barrios and the city of Buenos Aires along with the wider metropolitan area of Greater Buenos Aries forms a teeming megapolis which is visited frequently by both business and leisure travelers all year round.

Aside from its physical beauty, Buenos Aires is also known for its preeminent position in the Argentine economy. The city is home to several thriving industries like oil refining, textile production, metal works, chemicals and automobile manufacturing though it also has a strong services sector wherein advertising, financial services and the hospitality industry play a prominent role. Agriculture and cattle farming are extremely important sectors in the Argentinean economy and accordingly Buenos Aires has a thriving food production and processing industry which processes and exports the dairy, meat, grain, tobacco, wool, leather products and fine Malbec wines which are produced in various parts of Argentina . Much of this hectic business activity is conducted in a central area of Buenos Aires which is known as the Microcentro.


Aside from its economic and commercial significance, Buenos Aires also enjoys a reputation as a global center for the arts and culture. Buenos Aires is in fact renowned the world over as the birth place of the dance form known as 'the Tango' and the city has several schools where visitors can study this energetic but graceful dance form. Additionally the city is also known for its many landmarks like its world famous zoo, its botanic gardens and fantastic museums like the Museo Nacional De Belles Artes, the Museo Nacional de Arte Decorativo, the Museo de Arte Latinoamericano de Buenos Aires/Colleccion Constantini( MALBA) amongst others.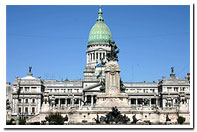 Further the city also hosts several prominent cultural events and fairs like the huge annual contemporary art fair called ArteBA and the Feria Internacional del Libro de Buenos Aires, or International Book Fair which is the largest book fair in Latin America. Both these world famous events attract hordes of business as well as leisure travelers to this vibrant port city. These travelers usually arrive in the city by flying into its Ezeiza International Airport (Aeropuerto Internacional Ministro Pistarini ) which is located in Retiro in Gran Buenos Aries and which can be accessed via a half an hour drive from downtown Buenos Aires on the Ricchieri Highway.

To cater to the needs of these numerous year round business and leisure travelers, Buenos Aires is equipped with over 300 hotels many of which are located in the city's stylish, upscale, 'old money' district called Recoleta which is famous for its magnificent cemetery La Recoleta Cemetery. This cemetery contains the remains of the rich and famous of Buenos Aires, including the remains of the celebrated Eva Peron, an actress and the politician wife of former Argentinean President Juan Peron. Located within the Recoleta district, are hotels like the Alvaer Palace Hotel, reputed to be the most luxurious hotel in South America which is reeks of opulence with its carved marble balustrades and French furniture, The Four Seasons Bsuenos Aires and the Palacio Duhau- Park Hyatt which are favored by business travelers to Buenos Aires.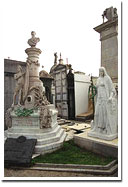 If your company is in the process of exploring business opportunities or is already conducting business in South America, there a good chance you or your colleagues will be visiting Buenos Aires often. Business class fares to cities in South America tend to be more expensive than fares to other global destinations and your company would do well then to avail of the cost efficient and reasonable services of the New York City based travel solutions company, Fare Buzz which specializes in business class travel packages to world-wide destinations.

Fare Buzz enjoys an exclusive relationship with over 60 domestic and international airlines and through this special relationship; it can procure much needed business class tickets which are an essential requirement for business travel at substantial discounts. It is worth mentioning that these cheap business class tickets come with all the perks that are normally associated with regular business class fares like mileage accrual and pre-assigned seats. Booking business travel through Farebuzz.com has been known to provide savings of over 70% as compared to tickets booked through regular channels.

Moreover the travel desk at Fare Buzz unlike impersonal web based travel services offers personalized service manned as it is by knowledgeable and experienced 'live' travel consultants who are on hand seven days a week to help you find the best business class fares and hotel deals for your complete business travel package. So next time you need to head out on business to 'Bue', Be sure to give Fare Buzz a call at 1-800-847-1963 to avail of the many attractive fares and deals that it has to offer.