Business Travel View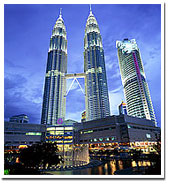 The city of Kuala Lumpur which is the capital of the South East Asian country of Malaysia is an animated blend of the old and the new. Kuala Lumpur or KL as it is popularly known as is usually the point of entry for any visitor to the peninsula of Malaysia. This vibrant, pulsating city whose name translates as 'muddy confluence" or 'muddy estuary' as it is located on the juncture of two major rivers is the largest city in Malaysia and it extends over an area of nearly 100 miles in Western Malaysia at a distance of approximately 60 miles inland from the coast.

Kuala Lumpur is a relatively young city which was founded only in 1857 by a group of Chinese tin miners however today this once quite, sleepy jungle outpost has grown into a fast paced, alluring metropolis which today along with Singapore and Hong Kong is considered to be an important economic and business epicenter of Asia. KL which is home to a multi-ethnic population that is made up of three main major groups mainly the Chinese, Malay and Indian populations is an important destination for business travelers for it is Malaysia's premier economic and cultural hub. In fact Kuala Lumpur and its surrounding urban areas are the most industrialized and fastest growing regions in the country, which are home to a wide range of industries like finance, insurance, information technology, real estate, textiles, footwear and petroleum.


Kuala Lumpur whose landscape is dominated by tall skyscrapers, ancient Chinese shop houses and elegant colonial also hosts several important Malaysian institutions like the Bank Negara Malaysia which is the Central Bank of Malaysia and Bursa Malaysia which is the main stock exchange of the country. Additionally the city is located within close proximity to the Klang Port and the Malaysian government sponsored Multimedia Super Corridor which was created to enhance the technological advance of the country and which today includes the state of the art Kuala Lumpur International Airport( KLIA) at Sepang and the planned towns of Cyberjaya and Putrajaya. The last mentioned town is in fact the federal administrative centre of Malaysia which houses the executive and judicial branches of the federal government.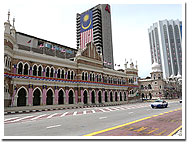 Kuala Lumpur in recent years has also emerged as a prominent center for Islamic banking for it hosts within its boundaries several important Islamic banking institutions like the world's largest Islamic bank the Al-Rajhi Bank and the Kuwait Finance House. Moreover the city also plays host to the headquarters of some of Malaysia's largest companies like the petroleum company, Petronas along with the regional headquarters for various multinational companies that have a presence in the South East Asian region.

All this hectic economic and business activity has helped Kuala Lumpur to become firmly established on the business traveler's map and in order to cater to the needs of the many business and leisure travelers that it welcomes every year, the city which is a fitting mascot for the Malaysian Tourist Board's much advertised tag line 'Malaysia truly Asia', has developed an efficient public transport system that is made up of taxis, subways and buses. Moreover this public transport network also offers highly convenient direct links from the city center (the Sentral station) to the KLIA in the form of the KLIA Ekspres and the KLIA Transit trains.


Further the city is also equipped with an extensive a network of business-friendly hotels which are largely concentrated near the city's golden triangle area of Bukit Bintang which extends over three roads namely Jalan Bukit Bitang, Jalan Imbi and Jalan Sultan Ismail. Almost all the leading hospitality brands have a presence in this golden triangle area and some of the most popular business hotels include the J.W. Marriott, The Ritz Carlton, The Imperial Sheraton Kuala Lumpur and The Westin. All these various KL business hotel properties are equipped with various amenities like free Wi-Fi service in rooms, flat screen TVs, spas, fitness centers which are generally coveted by business travelers. However aside from these hotels the city of KL is also equipped with a lively shopping, nightlife and dining scene which provides the business traveler with a chance to relax and recuperate after a long hard day of business meetings.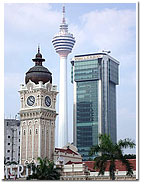 Travel to Kuala Lumpur from the US usually involves a long haul flight and if your company's business necessitates frequent trips to this energetic Malaysian capital city then you might want to consider using the efficient and cost effective services of the New York based travel management company, Fare Buzz. Business class tickets from the US to Kuala Lumpur are prohibitively expensive as they are usually priced well over $7000 but you can manage to procure these business class tickets at deeply discounted prices by partnering with the travel solutions company, Fare Buzz which is a leading supplier of cheap business class airfares.

Through its contracts with over sixty domestic and international airlines, Fare Buzz is able to procure cheap business class flights to nearly every destination in the world. It is worth mentioning that these cheap business class tickets come with all the perks that are normally associated with regular business class tickets like mileage accrual and pre-assigned seats. Further the customer service team at Fare Buzz which is available on hand all seven days of the week is made up of knowledgeable and experienced personnel who are dedicated to finding the most cost effective business class travel packages for their clients for in addition to airlines, Fare Buzz also has an exclusive relationship with over 10,000 hotel properties located all over the world. So when you next need to visit the land of the 'Bumiputras' (indigenous Malaysians) do make it a point to call Fare Buzz at 1-800-847-1963 inorder to secure the most competitive deals for your trip to KL.