Business Travel View
Melbourne, a city which is located on the northern bank of the Yarra River is Australia's second largest city. It is also the capital of the state of Victoria and is an important financial and commercial hub which is home to Australia's largest seaport. The city of Melbourne was founded by European settlers in 1835 though it was officially declared as a city by Queen Victoria in 1847. Melbourne gained much importance during the 1850's Victorian gold rush when gold was discovered in the nearby cities of Beechworth, Ballarat and Bendigos. As a result of this gold rush, Melbourne became a boomtown which attracted gold seekers from all over the country as well as overseas. Such was the importance of the city of Melbourne in the years that followed the gold rush that it went on to serve as the capital of the newly created nation of Australia from 1901 to 1927.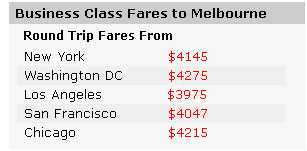 Today Melbourne whose Central Business District is dotted with several magnificent 19th century buildings continues to enjoy a prominent position in the Australian economy. The city hosts the headquarters of many of Australia's leading banks like the National Australia Bank and Australia and New Zealand Banking Group as well as the corporate headquarters of several large Australian companies like the mining giant, Rio Tinto and the telecommunications major Telstra along with the headquarters of several international companies. Further Melbourne is also home to Australia's first stock exchange, which was established here in 1861 and which today exists in the form of the Australian Securities Exchange, formed from the amalgamation of the Australian Stock Exchange and the Sydney Futures Exchange in 2006.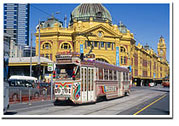 Aside from being a financial center, Melbourne is also home to several manufacturing and services industries like the Australian automobile industry though it is also an important hub for multimedia ventures and IT services. Additionally this energetic city is also a favored venue for domestic and international conferences as it is equipped with the state of the art Melbourne Exhibition and Convention Center which is located along the Yarra River in the Docklands area of the city. The Melbourne Exhibition and Convention Center has in fact recently added the 5000 capacity Plenary Hall to enhance its many myriad conference and convention facilities.

However apart from its business and commercial side, the vibrant city of Melbourne is also renowned the world over as a center for the arts, education, entertainment and sport. The sport of cricket is big business in Melbourne which is home to the Melbourne Cricket Ground (MCG) or the nursery of Australian cricket. Along with cricketing events, Melbourne also plays host to several popular international and domestic sporting events like the Australian Open Tennis Tournament, the Formula One Grand Prix and the Australian Rules Football Grand Final. Furthermore Melbourne is also home to the Australian film, music and television industries and it is a city that is visited by hordes of business and leisure tourists each year.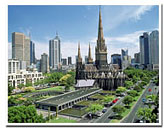 To cater to the needs of these visitors the city of Melbourne is well equipped with an international airport which welcomes a wide array of domestic and international carriers which connect the city to various parts of the globe. The Melbourne Airport is located at distance of 24 kilometers (15 miles) from the city center and is easily accessible via a 25 minute taxi ride from the city. Melbourne in fact has an excellent public transport system that is made up of trams, buses and trains which renders commuting in and around the city extremely easy. Melbourne also has more than 9000 city center hotels that range from five star properties to well known value brands. Moreover most of these Melbourne hotels are located within walking distance of the city's many arts', restaurant and nightlife attractions.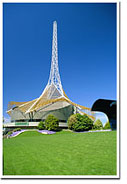 If you need to travel to Melbourne on business, your journey from the US will almost always involve a long haul flight with one or two stops on the way and the only way you can hope to cope with the resultant jet lag and the fatigue is by traveling in the premier cabin of your preferred carrier. Business class fares from the US to Australia are usually prohibitive as they can cost anywhere upwards of $10000 and if you or your colleagues need to travel to Melbourne frequently on business these costs can quite easily decimate your annual travel spend.

However you can easily manage to procure cheap business class deals for all your business class travel to Melbourne by availing of the cost effective services of a business class travel specialist like the New York City based travel management company Fare Buzz. Fare Buzz is a leading supplier of cheap business class flights. Through its contracts with over sixty domestic and international airlines it is able to obtain discount business class air fares to almost every global destination. Satisfied clients aver that booking their business class travel through Fare Buzz provides them with savings of over 70% compared to similar travel booked through regular channels.

Additionally the travel desk at Fare Buzz is manned by knowledgeable and experienced personnel who are on hand seven days a week to help you with all the travel planning necessary for your journey to this Aussie 'capital of business and culture'. Do call Fare Buzz at 1-800-847-1963 to secure the 'best' deals for all your business travel today.