Business Travel View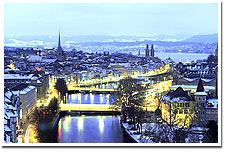 Zurich which is the largest city in Switzerland is nestled in a valley located at the end of the crystal clear Zurich Lake. This city which was founded by the Romans as a customs post was transformed into an important trade and business center during the 19th century when the Zurich Stock Exchange was established here in 1877. Zurich which is populated by nearly 370,000 people is an extremely wealthy European city that is often named in surveys as the city which offers the best quality of life in the world.

Zurich has long functioned as an important financial center in the world as it is home to the headquarters of several Swiss financial companies and institutions like Credit Suisse, UBS, Zurich Financial Services and the Swiss Stock Exchange which is also known as the SIX Swiss Exchange. In fact the city is also a favored destination for offshore banking though it also hosts the European outposts of several diverse international firms like Toyota Europe, General Motors Europe, Google, Microsoft, EBay and Degussa who have all set up offices and research centers in this once primarily banking hub of Europe.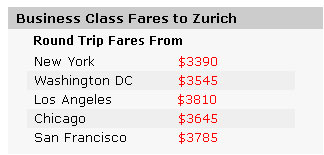 It is estimated that nearly 28% of the workforce in Zurich is made up of foreigners who are employed in these various international concerns. However the economy of Zurich is currently undergoing a rapid transformation as the city has also begun to welcome many high-tech, biotech and industrial companies who now co-exist with the private banking and asset management outfits which have long dominated the city's economic landscape.

To cater to the needs of its big business profile, the relatively small city of Zurich is equipped with an excellent and an efficient public transport system which is made up of trams, trolley buses, cable cars and lake steamers. Zurich's airport, the Zurich Kloten International Airport is considered by most business travelers to be one of the most travel friendly airports in Europe which can be accessed via a ten minute train ride or twenty minute taxi ride from the city's compact city center.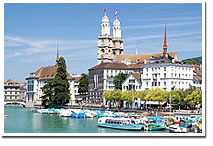 The Zurich airport plays host to more than 70 international carriers and is well connected by train to nearly 300 European destinations. Additionally the city is well equipped with several business-centric hotels like the recently refurbished, luxurious Dolder Grand Hotel which is perched atop the Züriberg, The Boutique Park Hyatt Hotel and the centrally located Widder Hotel which is situated in the heart of the city's premier dining, shopping and banking hub, the Bahnhofstrasse.

Aside from being a leading financial center, Zurich is also known to be the cultural capital of Switzerland and it thus offers many diverse entertainment options for those business travelers who wish to have some down time after a day of hectic wheeling dealing and tough negotiations.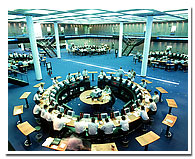 Zurich's historic sector of Old Town which is located on the left bank of the Limmat River can easily be explored on foot. Located here are several ancient baroque guild houses that hark back to the city's ancient past and which today host many enchanting small boutiques, antique stores, bars and cafes.

Aside from its Old Town, Zurich also has several old churches like the magnificent 'Grossmünster' and the 'Fraumünster' which are known for their stunning stained glass windows and several art galleries and museums as well as a central shopping area, the Bahnofstrasse which is considered to be one of the prettiest shopping strips in Europe populated as it is by many stylish and elegant high end stores and boutiques. For dining and entertaining, Zurich also offers myriad restaurants like Hiltl, La Salle, Kronenhalle and Parkhuus which offer a wide array of different cuisines.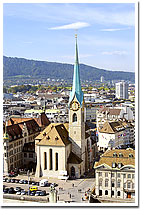 Travel to Zurich from most US cities involves a long haul flight and the only way that you can hope to arrive in Zurich in meeting ready shape is to travel in the business class cabin of your preferred carrier. However business class tickets to this bastion of the wealthy tend to cost a pretty penny if they are purchased through regular channels and the only way that you can hope to economize of these hefty travel costs is by partnering with a business class ticket specialist, like the New York City based travel management company Fare Buzz.

Fare Buzz is a leading supplier of cheap business class flights. Through its contracts with over sixty domestic and international airlines Fare Buzz is able to procure cheap business class air fares to nearly every global destination. Fare Buzz's satisfied and growing client base claims that you can actually expect to have savings of nearly 70% when you book your company's business class travel through Fare Buzz ahead of regular channels. It also is worth mentioning that these cheap business class tickets come with all the perks that are normally associated with regular business class tickets like mileage accrual and pre-assigned seats. Further the customer service team at Fare Buzz which is available and accessible seven days of the week is made up of knowledgeable and experienced personnel who are dedicated to finding the most cost effective business class travel packages for their clients. So the next time you need to travel anywhere on business be sure to call the folk at Fare Buzz at 1-800-847-1963 to score the 'best' business travel deals for all your business trips .