Rome, the capital of Italy, is an immensely popular vacation destination. However, the city also has a sizeable business profile as it is home to industries like financial service, textiles, technology, pharmaceuticals, and hospitality. As a result, it is a significant business travel hub and an attractive choice for conferences and meetings given its abundance of historical attractions along with its many conference and trade venues.
Easy accessibility
Fiumicino International Airport or the "Leonardo da Vinci" International Airport (FCO) is the main gateway to Rome. The airport receives a vast number of flights from around Europe and various International destinations. As a result, this airport, which is named after Italy's favorite son, is the busiest airport in the country. Rome also has a secondary International airport, the Rome Ciampino –G.B. Pistine International Airport (CIA) that functions primarily as a hub for low-cost carriers..
Rome's international airport is connected by a high-speed rail link, to the city's central railway station, Rome Termini. This express train service operates every 15 minutes and provides an easy conduit to the city in a mere thirty-two minutes. Taxis and hire cars are also available at the airport, but you don't want to drive in Rome's traffic, and if at all you need to visit other Italian cities on your business trip you can choose to use the many high-speed rail services that connect Rome to various domestic destinations.
Ride-hailing apps to get around Rome
Uber does exist in Rome, but there is no Uber Pool or Uber X service as the authorities only allow Uber black and Uber Van services. So often Uber tends to be more expensive than a taxi.
As with taxi services around the world, Rome also has its share of rogue taxi drivers. To avoid being ripped off, you may want to download the popular European ride-hailing app, MyTaxi, which will connect you to the closest taxi driver in the area.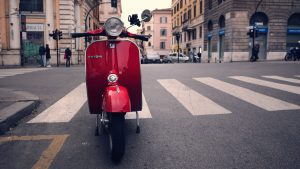 If you're going to be a tad more adventurous, you could use the app Scooterino. Rather than a car, a scooter driver with an extra helmet will arrive to take you to your destination.
Public transport in Rome comprises of three metro lines and seven tramlines along with a citywide bus service. While the city center is very walkable if you choose to use Rome's public transport you need to factor in extra time for delays.
The lay of the land
The central business district in Rome is called EUR. This area is located in the south of the city and is home to various offices and organizations. EUR is the acronym for Esposizione Universale Roma.
This zone was built for the World Fair of 1942, which didn't take place due to World War II. The area hosts several attractions such as the Museum of Roman Civilization, the Planetarium, and the Pigorini National Museum of Prehistory. Also located within this area is the Palazzo dei Congressi, a venue for business events and trade fairs.
This venue is by no means the only trade fair venue in Rome for the city also has other similar sites such as the Nuova Fiera di Roma, near the Fiumicino international airport, the Palalottomatica, a complex used for sports and entertainment events and the Auditorium del Massimo.
The essentials of doing business in Rome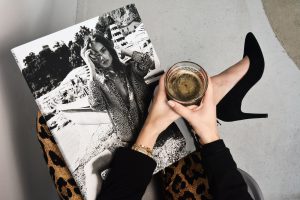 Italians are renowned for the sartorial style, so it's wise to sport formal attire when attending business meetings. A suit and tie for men and a trouser or skirt suit for women would suffice. Business meetings in Rome - like in the rest of the country - tend to commence on time so plan to arrive a few minutes early.
A handshake is a customary form of greeting for the first meeting though it's better to take your cues from your counterpart. As business relationships evolve and grow this may develop into the traditional Italian greeting of a warm embrace or the continental cheek-to-cheek welcome.
It is also acceptable to bring gifts to a first meeting perhaps something that is representative of your company but do remember not to wrap it in yellow or black paper as these colors are associated with funerals in Italy.
In Italy, business hours are typically from 8.30 am is to 5.30 pm (9 am to 7.30 pm for retail) from Monday to Friday, but like elsewhere on the continent banks and shops shut for an hour or two in the afternoon for riposo or siesta.
Language of business
The language of business at international companies in Italy tends to be English. However, before you head out to Rome, it would be useful for you to pick up a few words in Italian.
Italians respond well to those who attempt to speak their mother tongue.  Here are some basics:
"Ciao" - Hello
"Buongiorno" – Good morning
"Grazie mille"- Thank you very much
"Scusimi" - Excuse me.
Plugging in
As for electrical standards, Italy follows the European voltage standard of 220V to 239 V and a frequency of 50 Hz.  Wall sockets in Italy accept plugs of the F &L type with two or three prongs.
Dining and Tipping
Rome has an abundance of excellent restaurants offering both Roman cuisines (yes there is Roman cuisine that differs from another Italian fare) as well as international gastronomy.
If you need to impress your business counterparts, you should pick up the tab. Your bill will probably include a service charge if not a 10-20% tip is acceptable. Often business meetings take place over coffee, well in Rome as in other parts of Italy; a cappuccino is a breakfast beverage, and you should avoid ordering it after 11 am. Similarly, an order for a latte will get you a cup of milk.
Italians do not drink milky beverages after the morning meal so if you need to meet over a coffee do blend in and order an espresso or a Caffe macchiato (an espresso with a splash of milk)
As for other service personnel if you receive excellent service a suggestion of a euro or two is the norm.
Squeezing in some pleasure in Rome
Rome's pavements heave with tourists year-round, and long lines at attractions are extremely common. If you desire to see Rome's many magnificent historical attractions such as the Fontana de Trevi, the Colosseum, the Roman Forum, the Palatine Hill and others, you need to book ahead online since on a business trip you are likely to be pressed for time.
Luckily the city offers several evening walking tours like those provided by the Rogue Historian group that enables you to pencil in some twilight viewing of the city's famed sights on your business trip.
Book your business trip to Rome
With multiple flights a week from the USA to Rome, Fare Buzz travel specialists can navigate all of them to find a discounted fare that matches your travel needs and budget.
Start here:
Fill in the Request a Quote with your travel details and a travel specialist will research options and contact you shortly
Call 1-800-847-1963 to speak directly with a travel specialist
Your personal travel concierge is on call 24/7 to provide you with customer support and assistance with trip planning or adjustments when you need it.