The fairy tale capital of Czech Republic (or Czechia as it is now officially called) is one of those places that you will want to return too in every season. It's beauty rivals Paris and it's size makes it easily accessible. But over-tourism in summer can make the narrow cobblestone streets unpleasant to navigate, so bundle up, because Prague in winter is a magical, quieter place.
To have the winding gothic streets of the Old Town to yourself, get up early in the morning. It's not unusual for rain or a sprinkling of snow as the weather gets colder, so dress appropriately.
We're not kidding.
In December through February, you can expect lows from 29 - 32 °F (-2 - 0 °C) and highs around 36 - 40 °F (2 - 4 °C). A hat and gloves will allow you to stay outside longer – and believe me, you'll want to because the city is magical in the gloomy light of winter.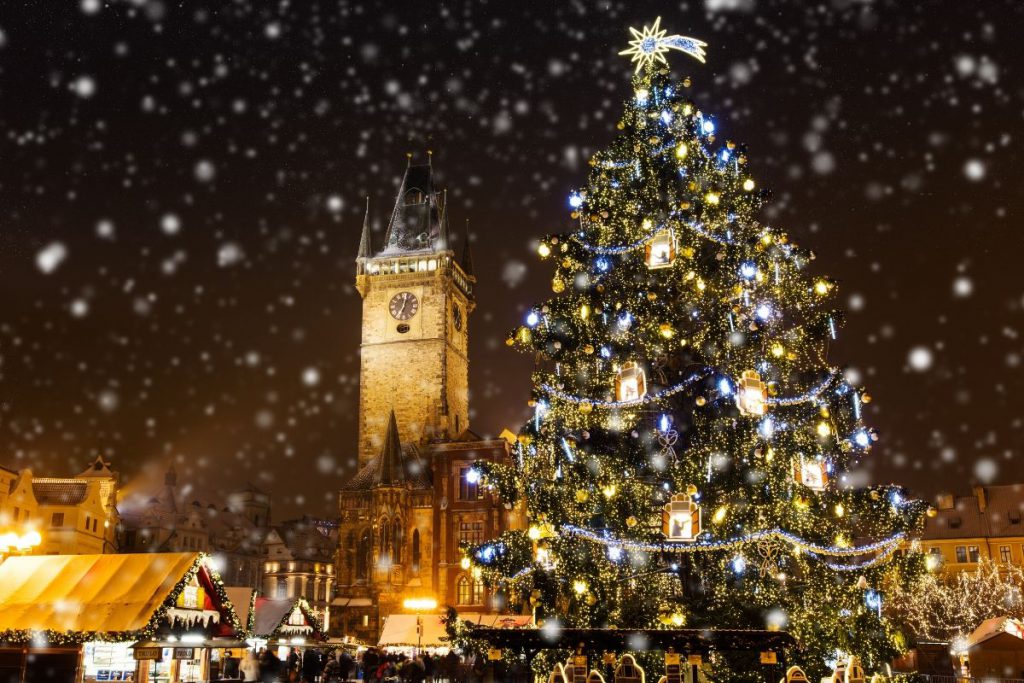 Christmas Markets
Peak winter season is December and early January. The city is festive and lovely, preparing for Christmas with many Christmas Markets in squares around the city. In Old Town Square (Staroměstské náměstí), the centerpiece is a massive tree decorated in twinkling lights and the best holiday finery. Vendors are set in quaint wooden stalls selling ornaments, souvenirs, trinkets, and good things to eat and drink.
If you can't tolerate crowds, try the market not 10 minutes away around Palladium Shopping Mall, or cross the Charles Bridge and descend the stairs to the Malá Strana market.
Get the chill out of your bones with a mug of hot mulled wine (svařák) and a freshly baked trdelník. A trdelník is a pastry rolled around a stick and baked over a hot griddle. When the pastry is done, it's coated in butter and rolled in cinnamon sugar. In some places, you can have the inside coated with Nutella or even filled with ice cream, but on a cold winter's evening, there is nothing better than eating a hot trdelník as it was meant to be.
If you are lucky enough to be in Prague on the evening of December 5th, don't be alarmed when you see three creatures that look like they're heading to a Halloween party. Krampus, a devilish half-man, half-goat creature prowls the streets on the eve of Saint Nicholas (Mikulas) Day. Krampus is accompanied by an angel and Saint Mikulas himself. The devil is there to scare naughty children, the angel to protect them and hand out treats to the nice children, and St. Mikulas carries a book with a record of each child's good and bad deeds. Sound familiar?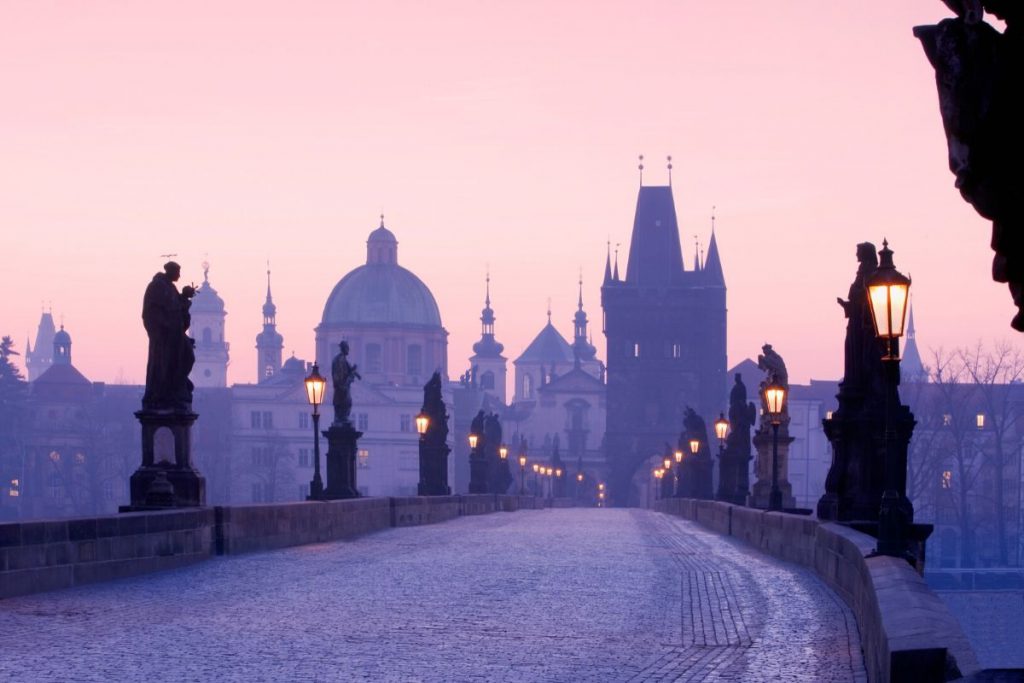 Stroll the Charles Bridge
The medieval Charles Bridge (Karlov Most) is one of Prague's most unique landmarks. It connects the Old Town with the castle district, so you will most likely stroll along it several times during your stay. The breeze from the Vltava River is chilly, so take a glass of medovina (honey wine) with you to keep you warm.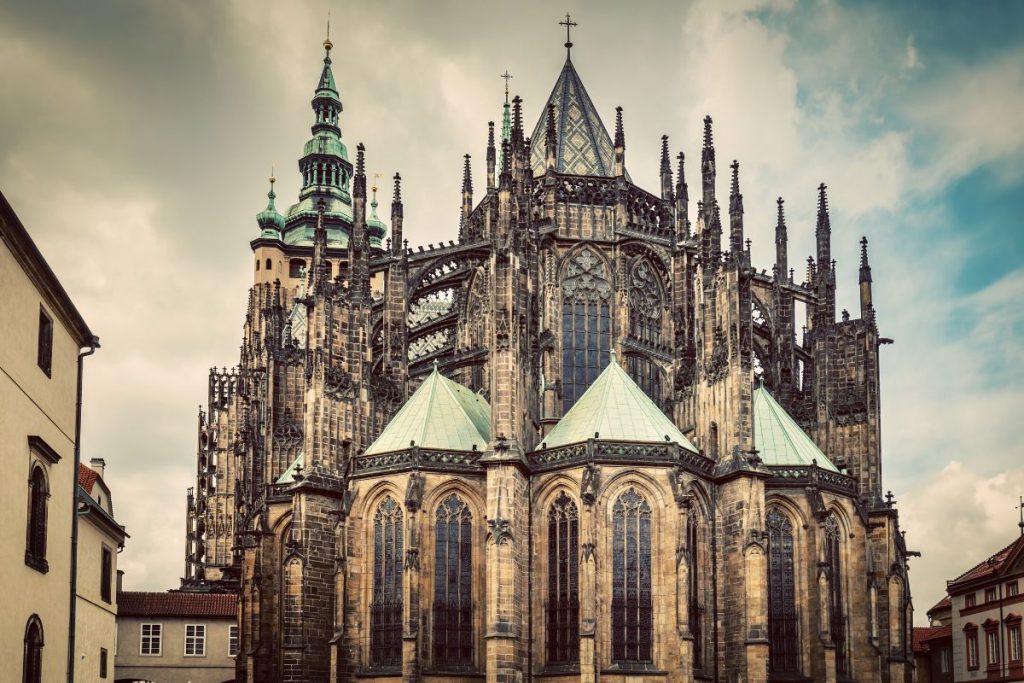 Visit Prague Castle
Prague Castle looks to be straight out of a fairy tale at all times of the year, but in winter, it is particularly gorgeous – especially with a light dusting of snow. Get your tickets, and walk around within the complex to visit the magnificent St. Vitus Cathedral, the Old Palace Hall, and Vladislav Hall.
Don't leave without seeing Golden Lane, a 16th-century row of houses owned by goldsmiths and other shop owners centuries ago. The colorful houses on the narrow laneway make this a perfect stop for Instagrammers.
Museums large and small
The National Museum (Národní muzeum) in upper Wenceslas Square has been closed for seven long years of renovation. It's open now, so if you can beat the lines, then it is a wonderful way to wile away a cold afternoon.
Prague has plenty of smaller, quirky museums as well. One of our favorites is the Special Effects Museum (Muzeum Karla Zemana) close to Charles Bridge. Karel Zeman pioneered cinematic special effects in the 20th century. The interactive exhibits are fun for children and adults.
Another favorite is the Mucha Museum commemorating Art Nouveau artist Alphonse Mucha. It's small, and a bit expensive, but impressive nonetheless.
Visit the theater or take in a concert
Get out of the cold and take in some culture. As you exit the metro at Namesti Republika, you will be near the Hybernia Theater. From November through March you can see a performance of Swan Lake. Be sure to book in advance.
If you are already at Prague Castle, take a break at noon for a classical music concert at the Lobkowicz Palace.
Book your flights to Prague!
Want to be a part of the fairy tale? Let Fare Buzz's experienced travel specialists help plan your next trip to Prague. They are knowledgeable about individual, family and group travel, and can handle all the details for you.
Start here:
● Fill in the Request a Quote with your travel details and a travel specialist will research options and contact you shortly
● Call 1-800-847-1963 to speak directly with a travel specialist
✈️ Grab your tickets to Prague today!