Costa Rica is one of the hottest adventure travel and vacation destinations in Latin America. The country welcomes more than 2 million tourists from around the world every year. Despite being a popular Latin American destination, much remains to be unraveled in Costa Rica, particularly its biodiversity and abundant natural wonders.
The country is all set to welcome you with its miles and miles of unspoilt gorgeous beaches, awe-inspiring jungle rivers for kayaking and rafting, amazing rainforests and cloud forests offering fabulous opportunities for hiking and bird-watching, and beautiful small forest lodgings ready to attract you endlessly during your vacation stay. Apart from these, there are a wide range of spectacular boutique hotels, plush spas, golf courses and luxury resorts in this prominent eco and adventure tourism destination.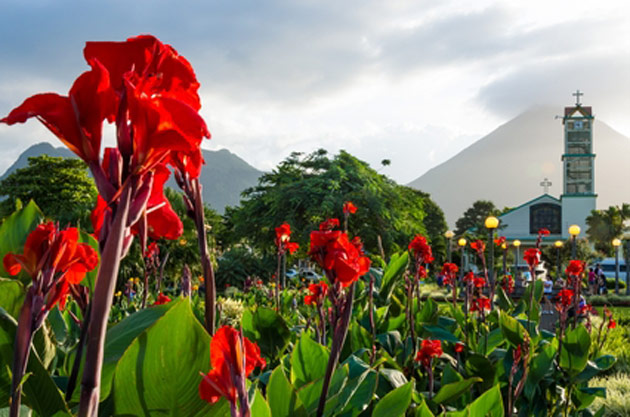 Let us now explore the best natural attractions in Costa Rica, which yet remains to be rediscovered. These famous attractions include Tortuguero Village & Jungle Canals, Osa Peninsula, Manuel Antonio, Monteverde Cloud Forest Biological Reserve, Arenal Volcano/Tabacón Hot Springs, Río Sarapiquí Region and Rincón de la Vieja National Park. An insight into some of these natural wonders beforehand will help you prepare well for your Costa Rica sojourn.
Tortuguero Village & Jungle Canals
Tortuguero Village is situated to the north of Limón, on the Caribbean coast. It's a tiny collection of wooden shacks located on a narrow strip of land between a dense network of jungle canals and the Caribbean Sea. It is often called Costa Rica's Venice, though it has more resemblance with the South American Amazon. It's a visual treat seeing the caimans, three-toed sloth, three types of monkeys, different kinds of water birds, and a wide variety of herons, while exploring the narrow canals. The best time to visit here is between June and October to see astounding spectacle of a green turtle nesting.
Osa Peninsula
Osa Peninsula is located in the southern part of Costa Rica. It is the most biologically rich and remote region of the country. It is home to  Corcovado National Park. You will find many scarlet macaws, crocodiles and jaguars in the island. Whether you prefer camping in the park, staying outside of Puerto Jiménez or enjoying your stay in the luxurious nature lodge in Drake bay, you will find yourself surrounded by the lush, dense jungle that this beautiful country has to offer.
Manuel Antonio
Manuel Antonio is situated near Quepos on the central Pacific coast. The place is renowned for its monkeys. You will find plenty of them, and even the endangered squirrel monkeys, at the national park here. You will undoubtedly love visiting this place as it offers great opportunities to click postcard-perfect photos of soft, white sand beaches, uninhabited islands and steep jungle hills meeting the sea.
Monteverde Cloud Forest Biological Reserve
The Monteverde Cloud Forest Biological Reserve is located in the mountains northwest of San José. A well-maintained network of trails can be found here. The community here is also passionately involved in conservation efforts. Walking around in the Monteverde Cloud Forest Biological Reserve during early morning mist surrounded by hanging vines and moss, flowering orchids, majestic trees hung heavy in broad bromeliads, and sweet, chirpy bird calls, is indeed a fascinating experience.
Arenal Volcano/Tabacón Hot Springs
The Arenal Volcano/Tabacón Hot Springs is situated near La Fortuna, northwest of San José. Get ready for a thrilling light show by the lava emitting Arenal Volcano, particularly when the skies are clear. You will also find earthshaking rumble exiting and frightening too. You can even enjoy the volcano's light show while soaking in a natural hot spring or relishing a drink at the Tabacón Grand Spa Thermal Resort's swim-up bar. You can also look forward to a massage here, which is incredibly inexpensive.