The Central American country, Costa Rica is renowned for its diverse ecosystems. Tourists over the last few decades have flocked to this rich country to discover its bountiful natural resources. There is much to see and do in Costa Rica, so it makes sense to put together an itinerary to plan your travel in a country where much of the land is protected to preserve the gifts of nature for future generations.
When to go

Tropical Costa Rica experiences two main seasons, a dry season that lasts from December to April and a rainy season which tends to extend from May to November. If you are planning to visit Costa Rica, then the dry season is perhaps the best time to visit for the weather is ideal for visiting the country's many stunning beaches.
San Jose

San Jose is the capital of Costa Rica. This lively city will probably serve as your base for your travels around this verdant country. Your gateway to Costa Rica is the Juan Santamaria International airport that lies 10 miles northwest of San Jose. Taxis, buses, and the ride-hailing app Uber provide transport links to the city.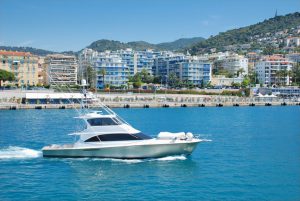 San Jose is a modern city that is laid out in a grid, so it is easy to walk around town and discover its various interconnected Barios(districts) like Barrio Escalante, home to many trendy bars, restaurants and cafes and Barrio Amon which houses many examples of old-world architecture. Other points of interest in this vibrant capital of Costa Rica include the Jade Museum and the Gold Museum, both of which showcase sizeable collections of awe-inspiring Pre-Colombian artifacts. Also worth an exploration is the city's trendy suburb Escazu, an enclave home to stylish and chic shops and eateries and pulsating nightclubs.
Beaches
Aside from lush tropical rainforest terrain that teams with wildlife, Costa Rica also has breathtaking beach fronts along both eastern and western coasts. Jaco is the beach town closest to San Jose and lies at a distance of 60 miles southwest of San Jose. You can use a bus service from San Jose to get here or then hire a car and drive out. Beaches such as Playa Hermosa and Esterillos Este are located within proximity to the town of Jaco and are popular with surfers. Other beaches worth a visit include the public access beaches of Playa Mantas and Playa Blanca.
Further afield are the many gorgeous beach towns of the Nicoya Peninsula, a region that stretches from the northernmost tip of Costa Rica and borders the Pacific. The 80-mile long shoreline of the Nicoya Peninsula features famous beachfront enclaves like Nosara Beach, Mal Pais and Playa Tamarindo. On the country's Caribbean coast are equally visit-worthy beaches like Cahuita and Puerto Viejo de Talamanca.
Costa Rica's expansive national park system features jungles, wetlands and cloud forests. Listed below are some the country's most visited nature reserves and national parks to help you plan your trip.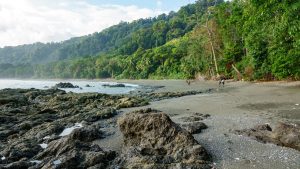 Arenal Volcano National Park
The Arenal Volcano represents all that you would imagine a volcano to be. The volcano is a symmetrical cone that rises to a height of 5000 feet. The Arenal volcano was dormant for years until it had an enormous eruption on July 29, 1968, which wiped out three villages. Since then it has erupted in fits and starts until 2010, after which it has again entered a dormant state. The best way to reach the Arenal Volcano Observatory lodge on the cone's northern side is to hike up on of the many trails that depart from the village of La Fortuna is situated at the base of the volcano. The park surrounding the volcano comprises lush green jungles, tumbling waterfalls, hot springs, butterfly gardens, and zip line adventure tours. Various hiking and horseback trails lead visitors up to the observatory ledge of the volcano.
The La Fortuna Waterfall is one of the attractions located within the Arenal Volcano National Park. The waterfall gushes down from a height of seventy meters. Visitors get to waterfall hiking on foot or on horseback and then climb down to the base of the falls where they enjoy swimming in the pool beneath the falls.
Tabacon Hot Springs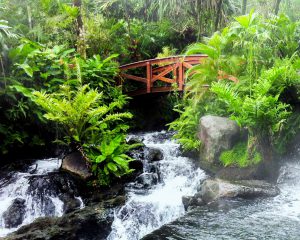 The Tabacon hot springs are the most extensive network of hot springs in Costa Rica. The springs are made up of natural rainwater and magma and are today enclosed in an upmarket resort. However, you can buy a day pass and access these mineral-rich hot springs to enjoy a relaxed, therapeutic day surrounded by lush greenery.
Corcovado National Park
Corcovado National Park situated on Costa Rica's southern Pacific coast extends over 100,000 green acres and is home to approximately 850 types of trees, 140 species of animals and 375 species of birds. The closest towns to the park are Puerto Jimenez, Carate and Drake Bay and there are three main entrances to the park are at San Pedrillo, La Leona and Los Patos. You can get to the park by taking an internal flight from San Jose to Puerto Jimenez and then driving to the town Carate and then walking the last stretch to the southern gateway. The long trek and travel are worth it for once within the boundaries of this green oasis you are guaranteed sightings of abundant and endangered wildlife like the giant anteater, the squirrel monkey, Baird's Tapir along with Toucans, scarlet macaws, howler and spider monkeys and even pumas, ocelots and jaguars.
Cano Island Biological Reserve
The Cano Island Biological Reserve is located 10 miles from the Osa Peninsula which is home to the Corcovado National Park. The clear waters that surround the island teem with marine life and coral reefs and are a favored spot for snorkeling. You can expect to see many colorful fish, turtles, rays along with bottle-nosed dolphins and humpback whales. Violines Island is a white-sand, palm tree lined peaceful enclave within the reserve.
Catalinas Islands
The Catalinas Islands are located off the Nicoya Peninsula in northwest Costa Rica, and these islands constitute the best diving spots in all of Costa Rica. Offering depths that range from 5 to 23 meters, the waters around these islands are home to schools of colorful tropical fish, sharks including the whale shark, sea turtles, and whales. The islands offer year-round diving opportunities.
Manuel Antonio National Park
Manual Antonio National Park is a small, protected reserve set in the country's central Pacific region. This not to be missed attraction is situated at a distance of 100 miles from San Jose and is accessible via two or three-hour drive from the capital of Costa Rica. The park encompasses 1680 acres of rainforest terrain and features white-sand beaches, hidden coves and nature trails. You can spot rare animals such as the three-toed sloth, iguanas, birds and many species of monkeys at this small park that brims with indigenous flora and fauna.