Planning for a spring break vacation? So, now you have started getting jittery and worrisome. And, you know why. Several minute details are involved into your vacation planning – accommodations, food, excursions and other outdoor activities. Finding the right choices just might be stressful. But, you needn't worry anymore and forget all your travel blues right away. Here's better choice waiting just for you.
Whether you want to enjoy your spring break in Cancun or other Caribbean nations, all-inclusive spring break vacation packages might be the perfect answer for you. This will instantly remove all your worries and vacation planning stress. The packaged deal is a sane budget choice for you. The package options are designed for singles, couples and families. The choice for this all-inclusive relaxing vacation solely rests with you. If you have rightly understood the benefits that come along with the all-inclusive travel packages, then you would of course like to know how this is going to be further advantageous for you. Here are some of the benefits of all-inclusive spring break vacation packages worth considering.
Helps plan your trip stress-free
The biggest benefit that comes with all-inclusive vacation package is that you won't feel stressed out when planning your spring break holiday. The resort which you have booked as part of this package deal offers all that you might be looking for at a predetermined price. This will give you an idea of the actual cost that your vacation will entail. This includes your accommodation, dining options and outdoor activities. An all-inclusive vacation package is not only stress-free, but it significantly cuts your cost by nearly 25 percent, when you compare the prices of other things you need to pay as you move along.
Eliminates Transportation cost
The biggest saving that comes along with all-inclusive package is that on transportation. If you had ever thought of spending all by yourself instead of an all-inclusive package, the biggest spending during your vacation would have been on transportation. But if you choose to stay at an all-inclusive resort, then the need for a rental car is immediately eliminated. You are likely to pursue most of your activities at the resort itself where you will be staying. However, if you want to enjoy sightseeing then you can make use of the shuttle service provided by the resort or simply hire a car for a short drive. Most of the all-inclusive resorts provide shuttle services for sightseeing and picking up the guests to/from the airport thus completely doing away with the need of rental cars.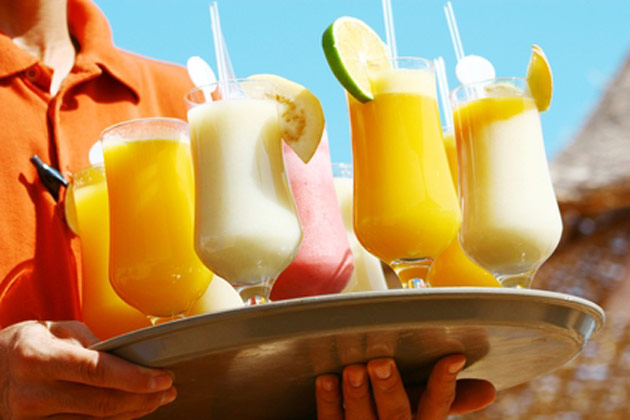 No need to spend extra on meals
You don't have to worry anymore to spend extra on your sumptuous meals. The all-inclusive vacation packages also include the cost of your food which will be available at the restaurants within the premises of the resort. However, you need to pick your all-inclusive packages wisely. Some of these packages only include snacks, while there are others that include all-you-can-eat options. You also need to ascertain whether the packages also include drinks as well. If you want to opt for unlimited alcoholic beverages and soft drinks then you might have to pay additional costs. The best thing in this case will be to pay additional cost for unlimited drinks because buying them elsewhere might be quite expensive.
Don't have to spend more on outdoor activities
If you want to enjoy outdoor activities during your holidays then you don't have to spend more or extra on these. Apart from accommodation and food, most all-inclusive resorts offer on-site activities as well. If you choose to stay in beachfront resorts then this is undoubtedly the best option for you. The resorts will offer non-motorized watercraft, snorkeling gear, and even shovels and sand palls for your kids. The package might also include fitness, yoga and cooking classes as well.
The benefits of all-inclusive vacation packages are manifold. According to travel experts and other related studies, buying all-inclusive packages is emotionally beneficial too. Every time you are required to pay for your drinks, meals and other activities on your vacation, the pain center in your brain gets activated and you will just have to struggle to actually relax when making a purchasing decision. By having already paid in advance for your all-inclusive vacation package the pleasure of your holidays only gets further enhanced. So, just go in for an all-inclusive spring break package to make your holiday even more enjoyable.