If you haven't yet booked this year's summer vacation, you've come to the right place. Here at FareBuzz, we've put together the best summer vacation hotspots for 2015. So you don't need to waste hours upon hours trawling through the internet choosing this year's top destinations – we've already done it for you! All you need to do is decide which one's right for you.
So whether you prefer beach breaks with maximum sunbathing and water sport opportunities, exiting adventures where you push yourself to the limit, relaxing retreats which require as little from you as possible or city escapes where your sole aims are to get lost in winding narrow streets and window shop, this post should give you all the inspiration you need to start planning your next amazing vacation for summer 2015.
Barcelona, Spain
With the British Pound and the American Dollar both being incredibly strong against the Euro, there's never been a better time to take a trip to Europe. Between June and September, the average temperature for Barcelona lies between 72°F and 79°F, making it ideal for travelers who love warm temperatures but can't stand excessive heat.
This Spanish city is one of the very best locations in Europe for artsy creative types. Here you'll find iconic pieces of architecture like the Sagrada Familia and Casa Batlló alongside captivating theatres like the Palau de la Musica Orfeo Catalana and the charismatic Barri Gotic (Gothic Quarter) where you can lose a whole day just wandering the cobbled streets. For foodies, there are the never-ending lines of tapas bars, high-end cocktail lounges and hand-crafted chocolate shops, whilst sports fans are catered for with Barcelona FC's Camp Nou and the Museu del Futbol Club Barcelona. Barcelona really is the perfect summer city vacation destination to visit this year, whatever you're into.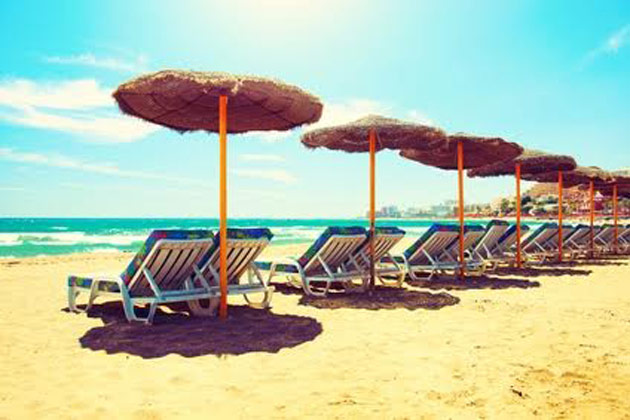 Montreal, Canada
It's not often Montreal appears on a best vacation destination list, which makes it a fantastic place to go if you want to avoid the crowds. During July and August, the city enjoys pleasantly mild average temperatures of around 70°F, peaking at highs of 79°C in the heat of the daytime.
But it's not the weather that attracts the tourists the city receives in summer – it's the amazing festivals it hosts.
Between June and August this year, Montreal is hosting no fewer than 46 festivals. Here's the pick of the bunch: Grand Prix (June 5th-7th), Le Mondial de la Biére/Beer Festival (June 10th-14th), International Jazz Festival (June 26th – July 5th), Comic-Con (July 3rd-5th), Juste Pour Rire/Just for Laughs (July 11th-25th), St-Jean-sur-Richelieur Hot Air Balloon Festival (August 8th-16th) and the World Film Festival (August 14th-16th). From music and drinks to high-speed racing and comic books – there's something for everyone.
San Francisco, US
San Francisco is ideal for travelers who hate being stuck indoors and want to spend every moment of their vacation out in the sunshine. Here temperatures are marginally cooler than the other destinations we've covered so far – varying between averages of 61°F and 68°F in the daytime – so the heat shouldn't be so harsh as to make you seek shelter indoors.
Must-do activities include a leisurely stroll around Golden Gate Park, a trip in one of the emblematic yellow cable cars and a bike ride across the Golden Gate Bridge, stopping every few yards to take another selfie to post online and show off to your friends back home. If you want to tie a bit of history into your vacation, make sure you take the time to stop by Alcatraz.
The only downside is that since San Francisco is a really popular summer vacation destination, hotel prices shoot up at this time of year. Keep an eye out for a bargain or book a last-minute deal if you want to save some cash.
Kanazawa, Japan
One of the few cities in Japan to escape with just minor destruction following WWII, Kanazawa is, as a result, brimming with colorful heritage and rich culture that you simply won't find in many other parts of the country. Visitors to the city at summertime can expect to soak up the sun during their trip, with average temperatures being around 79°C.
But just like Montreal, the weather shouldn't be what attracts you to Kanazawa – this city is even more of a culture vulture's haven than Barcelona. From breathtakingly beautiful gardens and welcoming teahouses to majestic temples and the only geisha community outside Kyoto, Kanazawa is a mesmerizing location for travelers who want to delve into Japanese history and traditions.
In March 2015, the Hokuriku Shinkansen – a high-speed railway line – was completed, allowing travelers to nip between Tokyo and Kanazawa in two and a half hours instead of the previous four, making it more accessible than ever before.
Cuba
In December 2014, President Obama announced that the US plans to re-establish its diplomatic relations with Cuba. So if you want to enjoy the island's unique charm, you need to go there fast and there's no better time than this summer. In celebration of the 500th anniversary of the founding of Santiago de Cuba, the city will host an out-of-this-world party during the week of July 25th 2015, with late-night partying and a spectacular carnival to be rivaled by Rio.
Even if you're not a party animal and prefer taking it easy to staying up all night, Cuba will undoubtedly win you over with its picture-perfect golden sandy beaches which give way to sparkling aquamarine waters. Here you can also learn how to roll your own cigar – even if you're not interested in smoking it – get a bizarre few of Havana through Da Vinci's Camera Obscura and drink mojitos more delicious and authentic than you've ever tasted.
Which of these summer vacation spots piques your interest the most? Or if you've already booked your summer vacation this year, where are you going? Leave us a comment – we'd love to hear from you!