Wineries, cider tasting, delicious lunches and a home away from home.
Go on a weekend away in this stunning Victorian wine region, or stay longer and really immerse yourself. Whether you're a local Aussie or a visiting traveler, this beautiful spot has got all you need for a chilled out break from city life.
Rent a House
Use Airbnb to rent out a great house for an even better price. You can get stunning properties with swimming pools, Jacuzzis and more for an absolute steal. There are around 770 properties for rent in Mornington Peninsula on Airbnb so there are plenty of options out there to suit a variety of budgets and tastes.
Cider Tasting
Swing by Mock Red Hill's Cider Lounge, which is a unique cellar space where you can taste a variety of fantastic homegrown ciders. And it's not even only ciders on offer – there are juices, apple cider vinegar and some fresh produce that the dedicated team have grown themselves on site.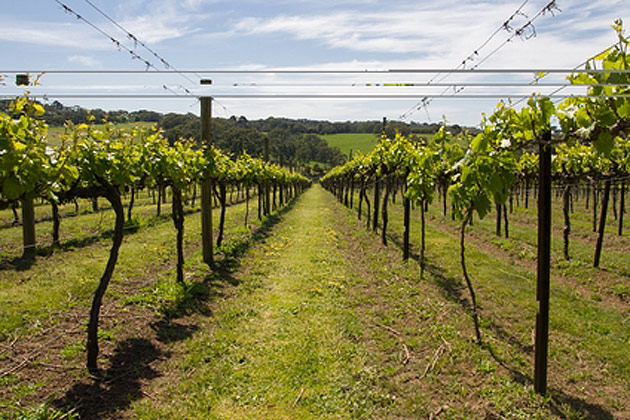 The cider is light, clean and crisp in taste and made from bio-dynamically grown apples. If you fancy a bite to eat, you can order a cheese platter, which comes complete with homegrown produce, cheese and dried fruit. Before you leave, don't forget to buy a few bottles of cider for the road!
Lunch at Foxys
Enjoy a light lunch in the cellar door at Foxys Hangout. Share some light bites and small plates that are designed to suit the wines that you'll be sipping on at the same time.
The Foxys winemaker Tony Lee is himself a qualified chef so you know that he's perfectly selected the wines and dishes to complement each other. Some of the herb-laden dishes include zucchini fritters with goat curd and basil, tomato salad with red wine vinegar, mint and feta, and barbecued quail served with a lemon wedge. To go all out, opt for the 'chef's menu', which gets you a little plate of everything so you know you're not missing out.
5-star Winery
Pop into Lindenderry's cellar door to try some award-winning vintages. Named a 5-star winery in the James Halliday 2014 Wine Competition, you know you'll be trying some decent vinos. The setting isn't too shabby, either - it's set into a 30-acre estate of gardens, lawns, vineyards and a lake. It's a beautiful spot to kick back and crack open a bottle of your favorite variety.