Maine is a wonderland for vacationers. The varied vacation options that this beautiful place offers has made it popular as the "Vacationland State". Whichever season you choose to spend your holidays, Maine forever remains to be a truly vacationland. You will find some great reasons to visit the state during summer for your vacations.
Blissful vacation in Coastal Maine
Come summer season, and Maine Coast is transformed into a popular destination for plenty of vacationers from across the United States and other parts of the world. Its beaches, and seaside villages and towns, become instant attraction for the holidayers. The resort towns also become one of the preferred places to enjoy a weeklong vacation. You can indulge in various kinds of recreational activities. A vacation in the resort towns along the Maine Coast is yet another way to explore the diversity of this place and see varied tourist attractions along the way. Boating and kayaking are some of the popular recreational activities to indulge in during your holidays.
As you set to explore the coastal towns in Maine, you will find them to be quite unique when compared to inland towns. The coastal towns are rather small, with a slow-paced atmosphere and friendly people. These towns though may be small, but you will find a large number of restaurants, bars and boutique shops similar to those found in bigger towns. With many beachside bars, chic boutique stores, antique shops, and of course, yummy lobster rolls and fried clams at food shacks, a vacation in Maine during the summer is what you must be surely looking for.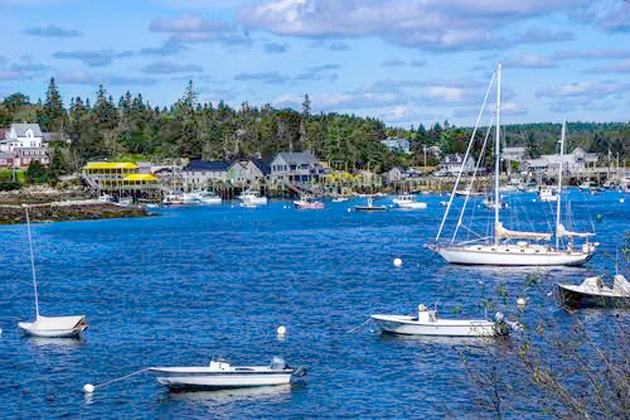 Vacationing on the beach
Vacationing in Maine's coastal towns are simply not enough unless you visit the beach. It's absoultely the best thing during a vacation. Enjoy sunbathing, indulge in leisurely beachsport such as playing Frisbee or bocce ball, relish exotic seafood and snacks at beachside restaurants, buy souvenirs from beachside shops or simply swim in the refreshing waters of the Atlantic – all these activities will make your vacation enjoyable and memorable. Maine Beach offers oodles of fun during summertime. However, there are some vacationers who prefer exploring the beach during the winter. They consider it to be the best time as summer crowds are gone and the cold is tempered by the Atlantic Ocean.
Entertain with a Boating vacation
Your vacation in Maine during summer isn't complete unless you take a boating excursion along the coast. It is an entertaining activity, and offers a chance to all those who couldn't get out on the Atlantic Ocean. A boating tour along the Maine coast helps you to unwind, relax and discover the nature's bounty that this beautoful place has been gifted. The boating excursion will unravel long stretches of gorgeous sandy beaches along the coastline, bustling harbors, islands outlying the coast, lighthouses atop granite cliffs, and rivers emptying fresh water into the ocean. Apart from boating excursion, you can also consider taking a kayak tour for a more intimate views of hidden coves and inlets.
After all, a vacation in Maine during summer is a dream come true for all vacationers. So, the next time you think of spending your holidays, Maine is the place to visit.