Business Travel View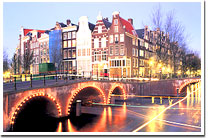 The city of Amsterdam is the capital and the largest city of the Netherlands. This city which is often associated with canals, windmills, tulip gardens and freewheeling cannabis selling 'coffee shops' has been firmly entrenched on the tourist traveler's map for decades. However in spite of its rather laidback reputation, Amsterdam does possess a serious business side so much so that this city which was once the home of the world's first known multinational corporation, the adventurous trading company, the Dutch East India Company is today regarded as the business and financial capital of the Netherlands.

Amsterdam was originally founded as a fishing village in the 12th century though foreign trade contributed a lot to its subsequent growth and development as it soon became a very important port and a global center for diamonds and finance. Amsterdam currently has a thriving economy which is dominated by industries like international trade, banking and financial services and tourism. The Amsterdam Stock Exchange which is the oldest stock exchange in the world is located in the heart of the city near Dam Square. This stock exchange was established by the erstwhile Dutch East Indian Company in the early seventeenth century as it needed an exchange to trade in the stocks and bonds that it issued. The Amsterdam Stock Exchange was merged with the Paris Stock Exchange and the Brussels Stock Exchange in 2000 to form the Euronext Amsterdam bourse which provides for trading in equities, derivatives as well as clearing and information services.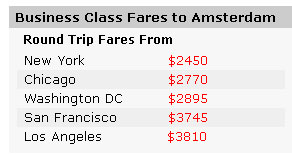 Amsterdam is home to the headquarters of some of the largest Dutch corporations like ABN Amro( which has recently been split into two entities, one owned by the Dutch government and the other owned by the Royal Bank of Scotland group) Akzo Nobel, Heineken International, ING Group, Ahold, TomTom, Delta Lloyd Group ,and Philips. The headquarters of KLM Royal Dutch Airlines and the global headquarters of auditing giant, KPMG International are located nearby in Amstelveen which is also included in metropolitan Amsterdam. Additionally, the city is also home to the headquarters of some of the largest Dutch law firms like Nauta Dutil, De Brauw Blackstone Westbroe and Houthoff Buruma who have their offices in the Zuidas which is one of the city's main finance and business hubs.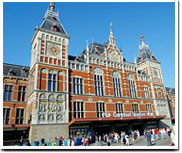 Aside from these Dutch corporations, the city also plays host to several international companies like the Boston Consulting Group, Accenture, American Express, Cisco, the Sara Lee Corporation, Canon Europa, Mitsubishi Motors Europe, Corporate Express, UPC Europe and many more. In fact Amsterdam which is equipped with the latest high-tech facilities, easy telecommunications and several conference and meeting options is considered to be an extremely business friendly city which is often thought to be an ideal launch pad city for an international business.

Befitting its status as an important center of world business, Amsterdam is home to one of the world's busiest airports, the Amsterdam Airport Schiphol which is consistently voted one of the best airports in Europe.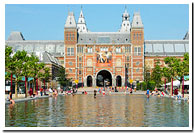 This airport which is located 17 km to the south west of the city welcomes a whole host of international legacy carriers as well as several European low cost airlines though it also functions as a hub for KLM Dutch Airlines which is the oldest airlines in the world and which since 2004 has been partnered with he French National carrier Air France. Schipol also functions as the European hub for the largest airline in the world, the US carrier Delta Airlines. Schipol is conveniently connected to Amsterdam's other transport hub, its Centraal Station by train.

Amsterdam Centraal Station plays host to several national and international services like the high speed Thalys train service which connects Amsterdam to Cologne, Brussels and Paris. The city is also well served by an efficient public transport network which is made up of trams, buses, the metro and taxis though it can also be easily navigated on foot and on bicycle.. All these various factors have contributed to making Amsterdam a preferred destination on both the business and leisure traveler's map and the city annually receives about four million international visitors who arrive at its shores on business or even just to take its world famous attractions like the Rijksmuseum, the Anne Frank House, The Rembrandt House Museum and its colorful red light district, De Wallen which is the designated area in the city for legalized prostitution.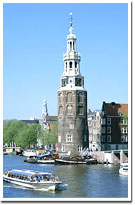 To cater to the needs of these visiting hordes the city is also equipped with numerous hotels which suit a wide array of budgets and include business traveler favored properties like the Intercontinental Amstel Amsterdam which is a luxury hotel located in the heart of the city's financial district, Hotel Seven on Seven, Hotel Artemis Amsterdam which is a contemporary business hotel located between the city center and the airport and The Dylan which is a stylish, boutique hotel housed in a 17th century landmark building near one of the city's canals. However when traveling to Amsterdam, business travelers must take note of the fact that many Dutch business establishments do not accept credit cards but readily accept Bank or Debit though the city is also well equipped with numerous ATMs which dispense the official currency, the Euro at all times.

If your work or business frequently takes you across the Atlantic to the city of canals you might want to consider availing of the highly efficient and cost effective services of the New York City based travel management company, Fare Buzz. Fare Buzz specializes in cheap business class is a leading supplier of cheap business class tickets. Through its exclusive contracts with more than sixty domestic and international airlines, Fare Buzz manages to procure wholesale cheap business class fares which it then offers for sale to its clients. Satisfied clients aver that booking their business travel through Fare Buzz provides savings of as much as 70% as compared to tickets booked through regular channels like web based suppliers. It is also necessary to mention that these cheap business class airline tickets are not lacking in any way for they come loaded with all the perks of full priced tickets like mileage accrual and pre-assigned seats.

Moreover unlike other impersonal web based services, Fare Buzz's customer service department offers personalized services manned as it is by experienced 'live' travel consultants who are on hand seven days a week to help you find the best airline business class fares and hotel deals.

Further Fare Buzz operates its own rewards program in conjunction with American Express Rewards Cards and every flight, hotel, vacation package and car rental that you book through Fare Buzz earns you valuable points which can be redeemed at more than 200 of the nation's retail and travel outlets.

So don't waste anymore time searching for that elusive 'deal' on the internet and call the team at Fare Buzz at 1-800-847-1963 to book your business trip to the exciting Dutch capital today.