Business Travel View
Barcelona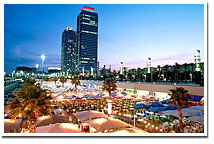 The Catalan city of Barcelona is the second largest city in Spain. This port city which is situated on the Mediterranean coast is the capital of the autonomous community of Catalonia and a destination which is visited by scores of business and leisure travelers every year.

Barcelona is the seat of the Catalan government (the Generalitat de Catalunya) and is in an important center for business and commerce in Spain which is home to various diverse industries like finance, media, international trade and entertainment and the arts.Accordingly, Barcelona hosts the headquarters of various Spanish companies like the automobile giant Seat SA, the banking major Banco de Sabadell S.A., the Spanish confectionary company Chupa Chups S.A.U., the low cost Spanish carrier Vueling Airlines S.A. and the textile manufacturing company, Dogi International Fabrics S.A.. Apart from these Spanish companies several multinational companies like Citibank, Sietel Limited, Aligen Independent Laboratories, Deloitte and Hewlett Packard all have a presence in Barcelona which once was a renowned center for textile manufacturing. Today apart from textile manufacturing companies, the city also hosts companies that are involved in manufacture of chemicals and pharmaceuticals, publishing and printing, automobile manufacturing, telecommunications, logistics and information technology services.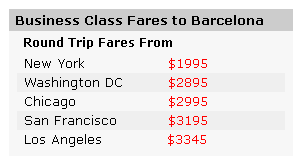 Barcelona's port also occupies a prominent position in its economy. This port which dates back to nearly two thousand years is today Europe's ninth largest port in terms of container traffic. The port of Barcelona which is currently being enhanced and expanded is made up of three main zones namely Port Vell or the old port, the commercial port and the Barcelona Free Port.

Barcelona which was the host city of the 1992 Summer Olympics is also renowned for its many world famous landmarks many of which are associated with the renowned Catalan architect Antonio Gaudi who was an exponent of the Art Nouveau style of architecture. Visitors who come to Barcelona on business almost always combine their trips with a tour of the city's most famous Gaudi sights like the Park Güell which has several sculptures designed by Gaudi, the Palau Güell which is a mansion which was built by Gaudi for Eusebi Güell that was declared a UNESCO World Heritage Site in 1984 and the unfinished cathedral of the Sagrada Família. Aside from these main attractions, visitors to Barcelona also make it a point to visit Barcelona's famous Las Ramblas or its beautiful pedestrianised boulevard that stretches from the heart of the city to the sea, the city's old town, or Ciutat Vella and its medieval Barri Gòtic (Gothic Quarter) which is home to the cathedral Plaça del Pi, art galleries and many cafes. The city's many museums like the Fundació Joan Miró, the Picasso Museum and Fundació Antoni Tàpies all which house the magnificent collections of these world-renowned artists also figure high on a visitor's must-see attractions in Barcelona list.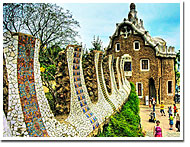 The wide array of attractions which are located in Barcelona have also rendered it as a favored spot for corporate meetings and conferences and the city is accordingly equipped with many conference and meeting venues like the like the Barcelona Convention Center, the Palau de Sant Jordin in Montjuïc, the Catalonia Convention Center and the World Trade Center which is located in the coastal area of the city.

Barcelona's primary trade fair company is the Fira De Barcelona which was founded nearly a hundred years ago and which today is recognized as one of Europe's top trade fair companies as it has organized more than 80 trade shows most of which are related to the industrial sector. To accommodate its many business visitors, Barcelona is also equipped with more than two hundred business hotels which can cater to almost every kind of travel budget. Some of the popular business hotels in Barcelona include properties like H10 Marina Barcelona Hotel, the Hotel Barcelona Princess, an avant-garde hotel located in the center of Barcelona, the Hotel Derby Barcelona, a stylish property located near the Diagnol district and the U232 Hotel which is a business hotel located near the Paseo de Gracia.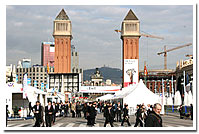 The port city of Barcelona is served by Spain's second largest airport, the Barcelona International Airport (El Prat de Llobregat Airport) which is located at a distance 6.2 miles to the south west of the city and which welcomes a whole host of domestic and international carriers. It is estimated that Barcelona International airport receives nearly 30, million passengers annually. The city also has a well developed and comprehensive public transport system which is made up of a metro system, a bus network, tram networks and several funiculars and aerial cable cars. Further Barcelona is also a major hub for the RENE which is the Spanish state railway network and it is home to the Barcelona-Sants station which hosts a wide array of intercity rail connections. All these various transport facilities make traveling within and around Barcelona an absolute breeze for the time pressed, busy business traveler.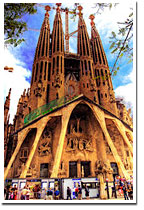 Travel to Barcelona from most US cities involves a long haul flight which generally extends over eight hours and which may or may not involve an additional stop. If you need to travel to Barcelona on business, then the only way that you can hope to arrive at your destination in meeting ready shape after such a long flight is to travel in the business class cabin of your preferred carrier. However business class tickets to city of Antonio Gaudi tend to cost in excess of $3000, though you can easily economize on these hefty travel costs by partnering with a business class ticket specialist, like the New York City based travel management company Fare Buzz.

Fare Buzz is a leading supplier of cheap business class flights. Through its contracts with over sixty domestic and international airlines Fare Buzz is able to procure cheap business class air fares to nearly every global destination. Fare Buzz's satisfied and growing client base claims that you can actually expect to have savings of nearly 70% when you book your company's business class travel through Fare Buzz ahead of regular channels. It also is worth mentioning that these cheap business class tickets come with all the perks that are normally associated with regular business class tickets like mileage accrual and pre-assigned seats. Further the customer service team at Fare Buzz which is available and accessible seven days of the week is made up of knowledgeable and experienced personnel who are dedicated to finding the most cost effective business class travel packages for their clients. So the next time you need to travel anywhere on business be sure to call the folk at Fare Buzz at 1-800-847-1963 to score the 'best' business travel deals for all your business trips.