Business Travel View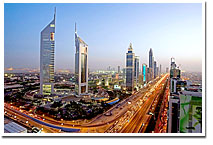 Dubai is the largest and most prominent emirate amongst the seven Middle Eastern states that make up the federation of the United Arab Emirates. The history of this brash, ambitious emirate which has a reputation for living large can be traced to its humble beginnings as a port of call on the ancient trade route between Mesopotamia and the Indus Valley. Dubai, over the ages has evolved into an important center of global trade as it functions as a duty free port which is especially known for its free trade in gold.

'Liquid gold' as oil is often described was first discovered in Dubai in 1966 and it was this find helped propel Dubai onto the world stage. However the house of House of Al- Makhtoum which has reigned over Dubai since 1833 quickly realized that aside from earning petro dollars like any other Gulf State, Dubai had much to gain by becoming a prime business destination of the Middle East. To achieve this goal, the emirs then wisely invested much of their burgeoning oil revenues in building world class infrastructure in Dubai which included the construction highways, roads and a first-rate airport in form of the Dubai International Airport.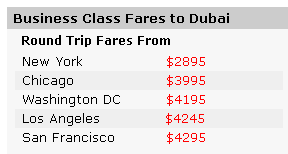 Dubai's Jebel Ali port which was built in the 1970s, and which has the largest man made harbor in the world is one of the leading ports in the world in terms of container traffic. The Jebel Ali Port is surrounded by the Jebel Ali Free Zone (JAFZ) which was set up in the mid-1980's and is a special economic zone that offers many concessions for international companies who decide to set up shop here like exemption from corporate tax for fifteen years, no personal income tax and no import or export duties. Initially much of the emirates' banking and finance companies were concentrated around the Jebel Ali port area but now Dubai is equipped with several industry specific free zones like Dubai Internet City and Dubai Media City which have helped create important hubs for banking, financial services, media and manufacturing within the emirate.

A whole host of international companies like Microsoft, the Oracle Corporation, IBM, General Motors, Boeing, Cisco, Hewlett Packard, Morgan Stanley, CNN, BBC, Reuters and many others have outposts in Dubai which operate alongside leading Emirati companies like Dubai World, the major finance and investment company of Dubai which has several arms like Nakheel, its property arm which is responsible for several iconic projects in Dubai like the luxurious Palm Islands and the World developments. Other major business groups in Dubai include organizations like the Galadari Group and the Al Futtaim Group which have various diversified business interests.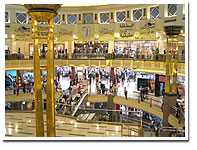 NASDAQ Dubai is the premier international stock exchange in Dubai. This exchange which was founded in September 2005 was formerly called the Dubai International Financial Exchange, or DIFX. The exchange whose standards are comparable to that of leading international exchanges in New York, London and Hong Kong provides a valuable investment link between the rest of the world and Dubai.

The NASDAQ Dubai is just one of the many exchanges that operate in Dubai, the others being the Dubai Gold and Commodities Exchange, the Dubai Mercantile Exchange, the Dubai Financial Market and the Abu Dhabi Securities Exchange.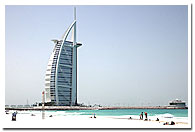 Besides functioning as an important epicenter for business in the Middle East, Dubai also does its utmost to promote itself as a prominent MICE destination in the Middle Eastern region for it is equipped with the state of the art Dubai International Convention and Exhibition Center which offers several multi-purpose halls and is conveniently located within the Dubai World Trade Center. The Dubai World Trade is well situated half way between the older and newer sections of the city. Attendees at these conventions and exhibitions thus have the chance to then experience both sides of Dubai, one which is populated with opulent, over the top hotels, tall skyscrapers, glittering shopping malls and entertainment centers and the older area of the city which is known for its fascinating souks, parks and quiet residential areas.

Tourism is yet another important industry in Dubai and the emirate hosts several annual shopping festivals (The Dubai Shopping Festival and the Dubai Summer Surprises) and a number of world class sporting events like the annual Barclays Dubai Open (world class tennis), the annual Dubai air show and the annual Dubai Desert Classic (championship golf) in addition to several horse racing and yachting regattas in an effort to attract tourist traffic to the emirate. These events are generally held all throughout the year except for the month of Ramadan or the Muslim holy month of fasting when strict religious rules govern the acts of eating, drinking and smoking in public.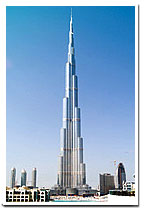 To cater to the accommodation needs of its numerous business and leisure visitors, Dubai is equipped with several super luxurious hotels like the billowing sail shaped, Burj Al Arab which is built on an artificial island adjacent to the emirates' famous Jumeirah Beach and is equipped with its own heliport, the glorious Atlantis Hotel whose launch party a couple of years ago, cost a cool twenty million dollars and featured numerous Hollywood celebrities, The Jumeirah Emirates Towers Hotel which consists of two tall nib-shaped towers that provide easy access to Dubai International Finance Center and the Dubai International Convention and Exhibition Center, the Radisson Blu hotel which is located within Media City and the Intercontinental Dubai Festival City. All these Dubai hotels are equipped with modern business requirements like high speed internet access, flat screen TVs, fitness centers, business centers and diverse restaurants that offer a smorgasbord of world cuisines.

If you need to travel to Dubai on business, your journey from the US will almost always involve a long haul flight with a possible layover in Europe though you can also choose to fly direct from New York City to Dubai on Dubai's own national carrier, the outstanding Emirates airlines which offer daily direct connections between the two cities.

However the only way that you can hope to combat the jet lag and fatigue, that is often associated with such a long haul journey is to travel in the premier cabin of a carrier that provides you with a connection to Dubai. Business class tickets from the US to Dubai, tend to cost anywhere upwards of $8000 and if you need to travel to travel to Dubai often, these prohibitive costs can rapidly eat into your company's annual travel budget, though you can easily manage to procure cheap business class tickets for all your business class travel to Dubai by availing of the highly cost effective and efficient services of a business class travel specialist, like the New York City based travel management company, Fare Buzz.

Fare Buzz is a leading supplier of cheap business class flights. Through its contracts with over sixty domestic and international airlines it is able to procure cheap business class air fares to nearly every global destination. You can actually expect to have savings of nearly 70% when you book your company's business class travel through Fare Buzz instead of regular channels. Moreover the travel desk at Fare Buzz is manned by knowledgeable and experienced personnel who are on hand seven days a week to help you with all the travel planning necessary for your journey to the bold, brash emirate. So why wait any longer? Pick up the phone and call Fare Buzz at 1-800-847-1963 to procure the most competitive and affordable business travel deal to Dubai today.