Business Travel View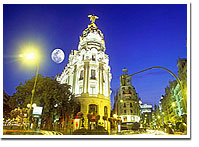 The vivacious Spanish capital city, Madrid is located on the elevated Castilian plain in the center of the Iberian Peninsula. This culturally rich city whose landscape is dotted flamboyant fountains, baroque buildings and medieval and renaissance palaces can trace its origins back to the 9th century when it was invaded by the Iberian Moors. The Iberian Moors then continued to reign over Madrid and much of the Iberian Peninsula for several decades and evidence of this rule can be seen in the many Arabesque buildings that populate the Spanish capital city. Today however Madrid aside from functioning as the premier city of Spain, is also an important economic nerve center of Europe as it is home to some of the continent's biggest companies like the banking conglomerate Banco Santander, the telecom giant Telefonica and Endesa, the largest utility company in Spain.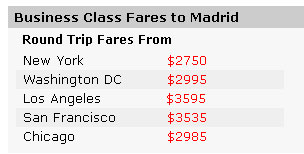 The economy of Madrid is actually quite diversified and the city hosts several myriad industries like banking and finance, petroleum refining, telecommunications, constructions and textiles. Additionally it is also a favored destination for trade fairs, conventions and forums for it has within its environs the gargantuan IFEMA Feria de Madrid Convention Center which encompasses a massive 200,000 sq. m. of exhibition space, twelve Halls and three convention and congress Centers. The Feria de Madrid which is continually being upgraded annually hosts nearly 80 trade fairs which feature the participation of nearly 42000 international and domestic companies. Moreover these trade fairs and conventions are visited by nearly 4.5 million visitors every year and this helps to keep the city of Madrid firmly entrenched on the business traveler's map.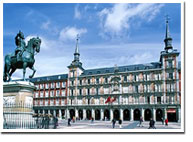 The business ethos in Madrid differs greatly from what it is in other European cities for business and pleasure are quite closely intertwined in the energetic Spanish capital. Madrid in fact boasts of several excellent restaurants and tapas bars which are often used as venues for the conduct of important business meetings. The main bars of the Ritz, the Palace, and the Villa Magna hotels are especially popular for such meetings though the city is also equipped with several other business travel hotel hotspots like the Hotel Hesperia Madrid and the renowned Hotel Silken Puerta America whose twelve floors have all been designed by various highly acclaimed architects like David Chipperfield, Norman Foster, Marc Newson and Zaha Hadid.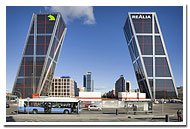 To cater to the needs of its many year round visitors Madrid is also well served by an excellent public transport system that is composed of buses, underground trains, taxis, shuttle buses as well as intercity, regional and high AVE speed trains that depart and arrive at Atocha which is Madrid's central railway station and connect it to other Spanish cities like Seville and Barcelona. Madrid is also home to the humongous and extremely busy Madrid Barajas International Airport which is considered to be the most important airport in Spain which hosts more than hundred different carriers from all over the world.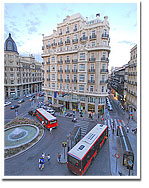 If your business entails frequent trips to the Spanish capital city, your flight from the US will always involve a long haul trans-Atlantic journey and the only way that you can hope to arrive in meeting ready shape is to travel in the premier cabin of one of the many carriers that offer connections to Madrid from various US cities.

Business class tickets are known to be expensive and business class tickets to Madrid are no different as they can cost $3000 upwards depending on whether you choose to fly on a carrier that offers a nonstop or multi-stop connection to Madrid. However your company can easily manage to procure cheap business class travel deals by partnering with a travel solutions company like the New York City based, Fare Buzz which specializes in cheap business class airfares.

Through its negotiated contracts with over sixty major airlines, Fare Buzz is able to procure cheap business class flights to nearly every destination in the world. It is worth mentioning that these discount business class tickets come with all the perks that are normally associated with regular business class tickets like mileage accrual and pre-assigned seats. Further the customer service team at Fare Buzz which on hand all seven days of the week is made up of knowledgeable and experienced personnel who are dedicated to finding the most cost effective business class travel packages for their clients. So don't wait any longer, pick up the phone and call Fare Buzz at 1-800-847-1963 to score the best business travel deals to Madrid today.