Business Travel View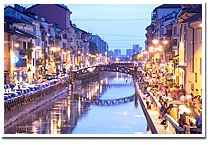 The Italian city of Milan which is the capital of the Lombardy region was founded by the Insubres, a Celtic people though it gained much of its present day preeminent position under the Romans who captured it in 222 BC. Today this lively and cosmopolitan city which is almost always associated with high fashion and style as it is home to several world famous Italian fashion houses like Giorgio Armani, Ermenegildo Zegna, Versace, Tod's and many more is an important epicenter for finance and business in Europe.

The city of Milan actually occupies an extremely strategic position in the Italian economy as it is surrounded by the largest industrial area of Italy, a region which through the ages has been associated with the wool trade, the production of silk and luxury goods and furniture and metal production. Today however the main industries located in this region include textile and garments, automobiles chemicals, industrial tools, heavy machinery, book and music publishing.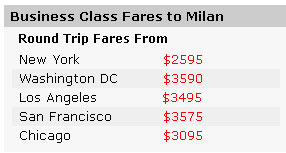 Aside from all this industrial development, Milan is also renowned as an important center for finance and banking for the city whose skyline is dominated by the Duomo ( The gothic Milan Cathedral) and the towering Pirelli tower is home to the Italian Stock Exchange or the Borsa Italiana. Moreover the city also hosts the headquarters of leading Italian companies like the tire giant Pirelli, publishing monolith Arnoldo Mondadori Editore S.p.A., Eyewear manufacturer, Luxottica, Esselunga S.p.A. a prominent Italian grocery chain and many others along with eighty percent of all multinational companies who have a presence in Italy .

Business travelers tend to regard this efficient and modern city, as a Mecca of style, glamour and commerce and they often head to Milan to attend one of the many trade fairs that it hosts all year round at its Fiera Milano Rho-Pero fair grounds. Fiera Milano which is situated at the city's north western suburb of Rho is located at a distance of 15 km from the city center. This trade fair complex is in fact known to be the largest such facility in the world and it hosts on an average 75 events a year including the prestigious Milan Fashion Weeks and the Milan Furniture Fair which is held annually in the month of April. It is estimated that these trade fairs on an average attract 4.5 million visitors to Milan annually.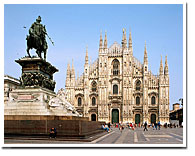 Before the inauguration of the Fiera Milano Rho- Pero in 2005, these trade fairs were held in a exhibition space known as "FieraMilanoCity" which was located in the heart of the city but now this city-center trade fair space has largely been dismantled and is currently being developed to host a development project known as CityLife Milan which will be made up of three skyscrapers called Il Dritto (The Straight One), Lo Storto (The Twisted One) and Il Curvo (The Curved One) which will house residential apartments and parks and museums. This project is likely to be completed in 2014 just in time for Expo 2015 which is to be held at the Fiera Milano Rho- Pero from May to October 2015. The Expo 2015 is expected to provide a further fillip to modernization and infrastructural development in the city of Milan.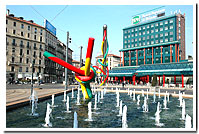 To cater to the needs of the hordes of business travelers that arrive in Milan every year, the city is equipped with two international airports, namely Malpensa which is located at a distance of 30 miles (50 km) North West of the city and Linate which is located at distance of 5 miles (8 km) southeast of the city. While Malpensa is served by a large number of long haul international carriers, Linate airport is served by mostly domestic airlines and several short-haul European budget carriers. Milan also has a third airport called Orio Al Serio which is located at a distance of 45 km from the city and which is served mainly by low cost European budget carriers. Milan which can be easily navigated on foot is also well served by an efficient metro network as well as a public transport system which is made up of trams, trolleys, taxis and trains which arrive and depart at the city's main railway station, the Milano Centrale Railway Station.

Milan is also equipped with numerous hotels which provide several accommodation options for both business and leisure travelers. Popular hotels in Milan include the ultra-luxurious Town House Galleria, which is considered to be the world's first seven-star hotel property, the Grand Hotel Et de Milan which is located in the city's financial district, the stately Principe di Savoia, the opulent Bulgari Hotel , the conveniently located sleek and modern Park Hyatt and the Milan outpost of the Four Seasons which is housed in a fifteen century monastery located in the heart of Milan's fashion district or Quadrilatero della moda.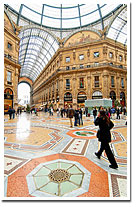 If your business frequently happens to take you to Milan, you may want to consider availing of the highly efficient and cost effective services of the New York based travel management company, Fare Buzz. Fare Buzz, offers affordable business travel solutions as it as it is a leading supplier of cheap business class tickets. Through its exclusive contracts with more than sixty domestic and international airlines, Fare Buzz manages to procure wholesale discounted business class fares which it then offers for sale to its clients. Satisfied clients aver that booking their business travel through Fare Buzz has provided them with savings of over 70% as compared to flights booked through regular channels like web based suppliers. It is also necessary to mention that these cheap business class airline tickets are not lacking in any way as they come fully loaded with all the perks associated with full priced business class tickets like mileage accrual and pre-assigned seats.

Moreover unlike other impersonal web based services, Fare Buzz's customer service department offers highly personalized services for it is manned by experienced live travel consultants who are on hand seven days a week to help you find the best airline business class fares and hotel deals for your complete business travel package to this epicenter of design and style.

Additionally while on business in Milan if you would like to stay on for a couple of days to take in the city's many enchanting sights or indulge in a bit of retail therapy at the city's many design haven then Fare Buzz's travel department can even make the appropriate sight-seeing arrangements for you. So next time you need to head off on business to glamorous Milan, do make sure that you give Fare Buzz a call at 1-800-847-1963 to avail of the many attractive fares and deals that it has to offer.