Business Travel View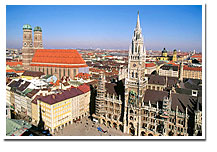 The Bavarian city of Munich which is located in Southern Germany is perhaps most well known for its annual two week long beer garden festival called Oktoberfest which attracts hordes of visitors to its shores at the end of September every year. However apart from being the host city of Oktoberfest, Munich which is the capital of the German state of Bavaria is also renowned as a leading economic and commercial epicenter in Germany which is home to many diverse industries like automobile manufacturing, insurances services, electronics, publishing and information technology.

Some of the most famous German companies like automotive giants BMW, MAN AG and Audi,(which has its headquarters in Ingolstadt, located 100km to the north of Munich) electronics major Siemens AG, insurance giants Munich Re and Allianz and the aerospace company EADS all have their headquarters located in or around Munich which is home to one of the strongest and most vibrant economies in Germany. Additionally Munich is also home to thriving German publishing industry which is the largest in Europe and the second largest in the world after New York City. Approximately 250 publishing companies are based in Munich and include companies like Hubert Burda Media which is a publishing house that publishes nearly 250 worldwide with almost 70 titles for its own market in Germany and Deutscher Taschenbuch Verlag(dtv) which is the leading German publisher for paper backs. Munich is also home to Süddeutsche Zeitung which is one of the most popular daily newspapers in Germany. Munichalso figures prominently in the world of German TV and cinema for it is hosts ARD which is the largest public broadcasting network in Munich while its suburb of Grünwald is home to the famous European film production house, Bavaria Film Studios.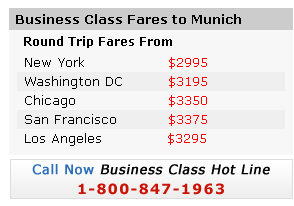 The healthy economic environment that prevails in Munich which has one of the lowest unemployment rates in all of Germany has also prompted several international companies like Microsoft, IBM, Macdonalds, Amazon, Google, Yahoo, Cisco, O2, PeopleSoft, Red Hat, and Sony Ericsson along with several others to base their European or German headquarters in Munich. The presence of all these international companies in Munich has firmly entrenched the city on the business traveler's map. Moreover Munich like its counterpart Frankfurt is also a city of trade fairs which are largely organized by its premier trade fair company, Messe München International which organizes and holds year round events at its main trade fair and exhibition centers like New Munich Trade Fair Center, The M,O,C, which is a special exhibition center for small to medium-sized events and the International Congress Center Munich which – is one of the most modern and successful congress centers in the world.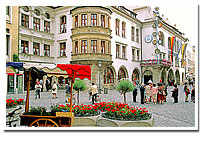 All this hectic economic activity has necessitated the development of a major transport center in Munich and the city today is home to Germany's second largest airport, the highly efficient and extremely well regarded Franz Josef Strauss International Airport which is also used as a hub by the Germany's own legacy carrier, Lufthansa. Munich's airport is located at a distance of 19 miles north east of the city center but it is well connected by taxis, commuter trains and the Lufthansa Airport Bus to the center of the city. During major trade shows shuttle buses conveniently transport business travelers directly from the airport to the fairgrounds.

Aside from its world famous airport, the city of Munich is also well served by an extensive public transport system which is made up of the Munich U-Bahn (underground system), The Munich S-Bahn( suburban trains), trams and buses. The city also has a communal bike sharing system which is being instituted as a green initiative in many cities around the world and it is accordingly equipped with well designated bike lanes to aid this effort.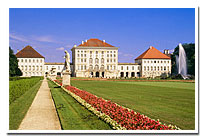 To cater to the accommodation needs of the numerous business travelers who arrive at its airport every year, Munich is well equipped with several hotels which are especially favored by the international business community like the Mandarin Oriental Munich which is centrally located near the Maximilianstrasse, one of the main shopping streets in Munich which is peppered with designer boutiques and many restaurants, also located on the Maximilianstrasse is the Kempinski Vier Jahreszeiten hotel which offers the ambience of old world European grandeur. Other popular corporate hotels in Munich include modern hotel properties like Le Méridien and the Dorint Sofitel Bayerpost München both of which are located on Bayerstrasse which is another main thoroughfare located in the heart Munich close to its main railway station, Munich Hauptbahnhof.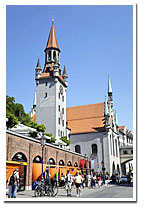 This picturesque city which is littered with grand 19th century buildings and much baroque architecture also has much to offer in the form of after-hour entertainment for the business traveler as Munich is home to many fabulous museums like the Bayerisches Nationalmuseum and the extremely popular BMW-Museum Zeithorizont, chic restaurants and boutiques as well a grand Opera House(the Bavaria State Opera House) and three major resident symphony orchestras namely the Münchner Philharmoniker, the Bavarian Radio Symphony Orchestra and the Bavarian State Orchestra all of which are housed in city's Gasteig Culture Center.

If your business frequently happens to take you to the beautiful city of Munich, you may want to consider availing of the highly efficient and cost effective services of the New York based travel management company, Fare Buzz. Fare Buzz, offers affordable business travel solutions as it as it is a leading supplier of cheap business class tickets. Through its exclusive contracts with more than sixty domestic and international airlines, Fare Buzz manages to procure wholesale cheap business class fares which it then offers for sale to its clients. Satisfied clients aver that booking their business travel through Fare Buzz has provided them with savings of over 70% as compared to flights booked through regular channels like web based suppliers. It is also necessary to mention that these cheap business class airline tickets are not lacking in any way as they come fully loaded with all the perks associated with full priced business class tickets like mileage accrual and pre-assigned seats.

Moreover Fare Buzz's services are not just limited to airlines as the company also has an exclusive relationship with a wide network of more than 100,000 hotel properties and the travel desk at Fare Buzz which is manned by experienced 'live' travel consultants can help tailor a complete business travel package for you and your team to the trade fair city of Munich whenever the need arises.

So if you have made plans to exhibit at one of the many Munich year round trade fairs or if you or members of your team are required to pay a visit to the European outpost of your company then, do make sure that you call the travel desk at Fare Buzz at 1-800-847-1963 to obtain the best business travel package to Munich today.