Business Travel View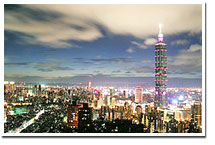 The bustling city of Taipei is the largest city in the Republic of China which is commonly known as the country of Taiwan. The Taiwanese constitution does not list Taipei as its capital though the city has served as provisional capital of Taiwan ever since 1949 when the seat of government was moved to Taipei from Nanjing.

Taipei which until recently was known as the home of the world' tallest building, the sky-touching, Taipei 101 has now lost its crown to the middle eastern city of Dubai which inaugurated its own behemoth, in the form of the Bhurj Khalifa Tower in January 2010. However the 508-metre (1,667-foot) gleaming tower of Tapei 101 continues to be an important focal point in Taipei as it hosts the Taiwanese Stock Exchange as well as corporate offices of various domestic and international companies like KPMG, the ING group, the GoldBank of Taiwan, the Development Bank of Singapore, Google Taiwan, HVB bank, Bayer Taiwan, McKinsey & Company Taiwan as well as many others.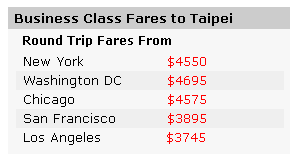 Taipei is in fact considered to be undisputed political as well as business and commercial capital of Taiwan for the city has an extremely strategic location located. The city is situated is in the midst of the most prominent industrial area of the country which is home to several factories that produce Taiwan's most well known exports like computers and computer related products, textiles and apparel, electrical machinery and equipment, food and beverages, precision equipment, printed materials and more. Taipei is also located within close proximity to the port of , Keelung which is located just 25 km away on the Pacific coast and is home to Taiwan's main shipbuilding industry. Accordingly several prominent Taiwanese companies like the Acer Corporation which is a leading manufacturer of notebooks, desktops, and netbook computers, Enhance Electronics Co Ltd, Hon Hai Precision Industry Co. Ltd, Foxconnn Technology Co Ltd, Via Technologies Inc all have their headquarters located in and around the vibrant city of Taipei.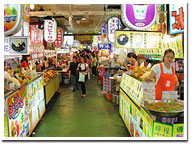 Aside being a favored location for domestic and international corporate headquarters, Taipei is also known as a choice Asian destination for meetings and conventions. These conferences, meeting and conventions are largely hosted in the city's world class conference facility, the Taipei International Convention Center which is an integral part of the Taipei World Trade Center Complex.

This convention center which hosts diverse events all year round is equipped with a main hall that can seat 3100 people as well as a 1000 seat banquet hall. Additionally the center is also equipped with 21 meeting rooms of various sizes which along with the main halls are manned by professional staffs and equipped with the latest audio, visual and communication equipment.

Since its inauguration in 1990, the Taipei International Convention Center has hosted a wide array of events which range from annual meetings to launches of promotional campaigns, to gala balls and buffets and various kinds of business conferences which usually feature the participation of many international visitors.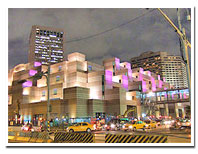 The prominent location of the city of Taipei also ensures that is serves as a major transport hub and the city is well connected by various modes of transport to the rest of Taiwan. This defacto capital city of Taiwan is equipped with two major airports namely The Taoyaun International Airport which is located at distance of 40 miles from Taipei which functions as the main hub, for the homegrown Taiwanese Airline, EVA Air. This international airport handles all the international air traffic in and out of Taipei while the city's second airport, the Songshan Airport handles the bulk of its domestic air connections. Additionally Taipei is also served by a well developed public transport network which features buses, a metro system known as MRT and of course taxis.

It is estimated that the city of Taipei in 2008 welcomed nearly 3 million international visitor who traveled to this city for business. To cater to the needs of this international business community, Taipei is well equipped with a wide range of business hotels which aim to suit all kinds of travel budgets. Some of the most popular business hotels in Taipei include properties like the Grand Formosa Regent which has often been voted as one of the top hotels in Asia, the centrally located, the Sherwood which is known for its excellent service and is a favorite with the visiting banker community, The Ambience Hotel which is located in the heart of Taipei's business district, the Taipei Westin Hotel which is one of the 'most Americanized' hotels in the city and the boutique Taipei Fullerton Hotel.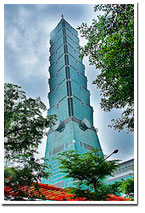 If you need to travel to Taipei for work, your journey from the US will almost always involve a seemingly never-ending long haul flight and the only way you can hope to cope with the jet lag and the fatigue that results from such a journey is by traveling in the business class cabin of your preferred carrier. Business class tickets from the US to Taipei are often prohibitively expensive as they can cost anywhere upwards of $4000 and if you or your colleagues need to travel to Taipei often on business these costs can add exhaust your company's annual travel spend very quickly.

However you can easily manage to procure cheap business class deals for all your business class travel to Taipei by availing of the cost effective services of a business class travel specialist like the New York City based travel management company Fare Buzz. Fare Buzz is a leading supplier of cheap business class fares. Through its contracts with over sixty domestic and international airlines it is able to procure cheap business class air flights to almost all worldwide destinations.

Booking business class travel through Fare Buzz provides savings of over 70% as compared to tickets booked through regular channels. It is worth mentioning that these cheap business class tickets come with all the perks that are normally associated with regular business class tickets like mileage accrual and pre-assigned seats as well. Further the travel desk at Fare Buzz is manned by knowledgeable and experienced personnel who are on hand seven days a week to help you with all the business travel planning necessary for your journey to this pulsating Taiwanese city. Do make it a point to call Fare Buzz at 1-800-847-1963 to lock down the 'best' business travel to Taipei deal today.