Business Travel View
Venice
The immensely popular Italian destination of Venice is situated in the midst of the marshy, island filled Venetian lagoon, which is an enclosed bay of Adriatic Sea. The Venetian Lagoon stretches from the River Sile in the north to the River Brenta in the south and has within it many islands, mud flats and salt marshes. This strategic location of Venice enabled it to function as a major maritime base during the Middle Ages and the Renaissance periods though during this time apart from functioning as a maritime base, Venice also served as an important center for trade and commerce especially for the trade of products like silk, grain and spices so much so that the city was once commonly referred to as the "Queen of the Adriatic? or ?the City of Water.?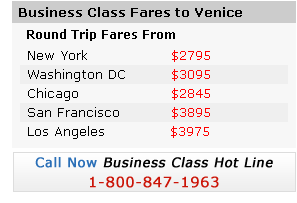 Today however Venice whose main industry is tourism has come to be known as the ?City of Canals? and ?the City of Bridges? for the city stands on a archipelago of 118 islands which are surrounded by nearly 150 canals and connected by over 400 bridges. This unique topography of Venice has often led it to be described as one of the world?s most romantic cities which has featured as a backdrop in many Hollywood movies (James Bond movies like ?From Russia with Love', 'Moonraker' and 'Casino Royale', Death in Venice, Fellini's Casanova, Indiana Jones and the Last Crusade, A Little Romance), literary works (Shakespeare's Merchant of Venice and Othello, Voltaire's Candide) as well as countless musical compositions.

Venice?s economy has undergone much transition through the ages and the city which functioned as prominent maritime power until the 18th century was then transformed into an exporter of agricultural and industrial goods. During this period much of the city?s trade was conducted through the Venice Arsenal which was the city?s main shipyard area. Presently most of these shipbuilding activities have shifted out of Venice to its neighboring cities of Mestre and Porto Maghera and the Venice Arsenal today is largely used for the staging of various cultural activities. Today the economy of Venice is dominated by industries like tourism, shipbuilding and trade that include the export of various products like glassware and glass products, furniture, lace, footwear and leather products, industrial systems and machinery and processed foods. The economy of Venice is further is characterized by various clusters of production for instance exquisite glassware in produced in the Venetian locality known as Murano which is world renowned for the production of decorative glassware while the Venetian footwear cluster is largely situated in an area known as Riviera del Brenta and lace production is concentrated on the island of Burano which is also located in the Venetian lagoon.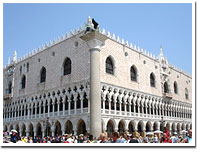 Tourism however is the main cornerstone of the Venetian economy as the city is home to numerous world famous attractions like St Mark?s Basilica, the Doge?s Palace which overlooks St Mark?s Square and the Grand Canal which is crossed by Ponte di Rialto (Rialto Bridge) and the wooden Ponte dell? Accademia ( Academy Bridge) which attract hordes of tourists to its shores every year.

Additionally this gorgeous city also hosts major events like the Venice Biennale, which is a world famous contemporary art fair that is held every two years and features the participation of art galleries, dealers, art lovers from all over world. The Venice Biennale also includes allied festival events like the Venice Biennale of Architecture and the International Festival of Contemporary Dance. Yet another world renowned annual event that is held in Venice is the Venice International Film Festival which is the oldest film festival in the world that attracts filmmakers and artists from all over the world to the island of Lido in Venice at the end of August or beginning of September every year.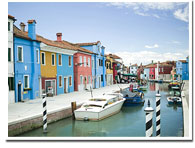 The city of Venice doesn?t allow any vehicular traffic and its transport needs are served by its vast network of canals which take the place of roads and are traversed via ferries, gondolas, waterbuses (vaporetti) and e very expensive water taxis though the city?s public transport network does include land buses as well. The city also has rail links to the rest of Italy and Europe via its busy Santa Lucia Station.

Venice is connected to other global destinations via its Marco Polo International Airport which is located in Tessera on the mainland. This airport which receives mainly international carriers is easily accessible from the island of Venice via water taxi or water bus though the city is also served by its smaller Treviso airport which welcomes mainly low cost carriers.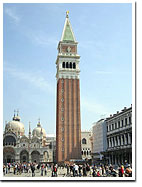 Accommodation in Venice is provided by several iconic and legendary hotels like the Hotel Cipriani which is located on Guidecca Island and has within its folds the famous Harry?s Bar, a watering hole which was made famous by the author Earnest Hemingway, the Hotel Danieli which dates back to the 14th century , the Hotel Gritti Palace which overlooks the Grand Canal and which was in the 16th century the residence of the Dodge of Venice and the Hotel Bauer which is located within close proximity to St Mark?s Square. The city however also has several other hotels like the Hotel Monaco which overlooks the Grand Canal and Hotel Agli Alboretti which is located near the Accademia Bridge that meet more modest travel budgets.

If your business happens to take you to Venice frequently on product sourcing trips or if you are a regular participant in one of the city?s main cultural extravaganzas then you want to consider availing of the highly efficient and cost effective services of the New York based travel management company, Fare Buzz. Fare Buzz specializes in business class air fares and it is a leading supplier of cheap business class tickets. Through its exclusive contracts with more than sixty domestic and international airlines, Fare Buzz manages to procure wholesale cheap business class fares which it then offers for sale to its clients. Satisfied clients aver that booking business travel through Fare Buzz provides savings of over 70% as compared to tickets booked through regular channels like the many web based suppliers. It is also necessary to mention that these cheap business class airline tickets are not lacking in any way as they come loaded with all the perks of full priced tickets like mileage accrual and pre-assigned seats.

Moreover unlike other impersonal web based services, Fare Buzz?s customer service department offers personalized services manned as it is by experienced ?live? travel consultants who are on hand seven days a week to help you find the best airline business class fares and hotel deals for your complete business travel package to Venice.

Further if while you are business in Venice and decide that you would like to stay on for a bit to take in the city?s many enchanting sights, then Fare Buzz?s travel department can even make the appropriate sight-seeing arrangements for you as Fare Buzz offers a whole package of services for the discerning business traveler . So next time you need to head off on business to ?La Serenissima? or the divine republic of Venice do make sure that you give Fare Buzz a call at 1-800-847-1963 to avail of the many attractive fares and deals that it has to offer.