The sport of golf enjoys worldwide appeal. In Asia, the sport's popularity in recent years has been growing in leaps and bounds. As a result, several Asian countries now play host to several top-notch golf courses. While some of these golf courses are located within exclusive clubs, many are attached to luxurious resorts and welcome day visitors. So if you are visiting a destination in Asia and feel the urge to practice your swing, you may want to venture out to one of the public access courses mentioned on our list.
Thailand
The 'land of smiles' Thailand is home to more than 250 golf courses. Spread over diverse terrains, in Thailand you can tee off in the hills or then soak in stunning water views as you practice your swing on a golf course within a beach resort.
Laguna Phuket Golf Club
The Laguna Phuket Golf Club is one of Thailand's top golfing resorts. The resort is located on the stunning island of Phuket and is linked to six Laguna group hotels. However, this 18-hole, verdant course is open to day visitors as well. Aside from golf, the club also has tennis courts, a café, a Pro shop and training and practice facilities.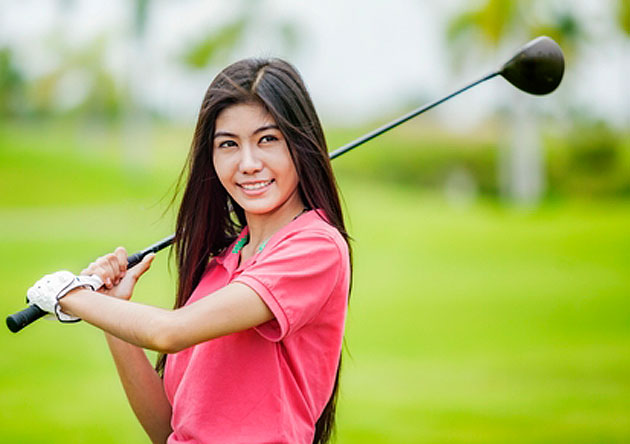 Chiangmai Highlands Golf and Spa Resort
The ancient city of Chiang Mai nestled in the foothills of Northern Thailand offers an 18-hole green course at its Chiang Mai Highlands Golf and Spa Resort.
The course at is open to hotel guests as well as day visitors. The course features firm and fast greens that run between 9.5 and 10.5 on the Stimpmeter(a device used to measure the speed of a golf course).  A Spa, Pro Shop, restaurant, a swimming pool and fitness center are also available at the resort, which features a range of luxurious villas as its accommodation options. Hotel guests enjoy a preferred green rate during their stay.
Le Meridien Suvarnabhumi Bangkok Golf Resort and Spa
Occupying a convenient location near Bangkok's international airport, the Le Meridien Suvarnabhumi Bangkok Golf Resort and Spa encompasses a scenic Nick Faldo designed 18-hole golf course.  This golf resort has facilities for day and night golfing sessions and the course is suitable for golfers of all levels. The hotel offers all the trimmings of a five starred hotel property and features facilities such as a well-equipped fitness center, a swimming pool, and a full-service spa. The property is an ideal locale for a golfing vacation with family, for it is also within easy access to the city center and a large shopping mall. So if you are busy with a golf session, your fellow vacationers can easily occupy themselves.
Indonesia
Ria Bintan Golf Club
Bintan, the Indonesian resort island lies within easy access of Singapore. Regular ferry services, which traverse the Singapore Strait, transport day tripping golfers from Singapore to the northwest coast of Bintan Island, home to a clutch of resorts. Ria Bintan Golf Club is one such popular golfing haunt. The club offers Gary Player designed 27-hole championship golf course that is made up of an 18-hole Ocean course and a 9-hole Forest course. The club also has a driving range and offers other facilities such as a relaxing spa, a restaurant, a Pro Shop and function rooms. The club's on-site lodge also has accommodation facilities in case you want to stay for a night or two.
Bali National Golf Club
The Bali National Golf Club is located in the pristine, oceanfront, luxe resort area of the island of Bali. Surrounded by coconut groves and a lush, tropical forest, the Bali National Club offers a recently, renovated verdant 18-hole course.  The famed firm, Nelson, Haworth Golf Course Architects has designed the layout of the course whose 17th hole almost plays out to the surrounding azure waters of the Indian Ocean. The club also features a luxurious clubhouse, a Pro shop, bars and restaurants and villas for hire. Day visitors can hire golf clubs and golfing shoes at the club. The Bali National Golf Club is the host club of many a prestigious golfing tournament all year round.
Malaysia
Malaysia like Thailand abounds with first-rate golf courses where tee times and golfing rates are affordable.
Mines Resort and Golf Club
Located close to the capital city, Kuala Lumpur, the extravagant Mines Resort and Golf Club features a Robert Trent Jones Jr. designed 18-hole championship course occupying a space that once was a working mine. The course is built around a large man-made lake, which along with the lush, green surroundings plays host to many exotic species of birds. The resort also has a grand clubhouse, a driving range, and a restaurant with a terrace. A variety of accommodation options are available at the Palace of Golden Horses Hotel and the Mines Wellness Hotel located close-by.
Saujana Golf and Country Club
The Saujana Golf and Country Club located just outside Kuala Lumpur city features two award-winning 18-hole golf courses. The Palm Course and the Bunga Raya course both these courses have been designed by famed golf course architect, Ronald Fream. While the Palm course has been fashioned out of a Palm oil plantation and features a craggy landscape, the Bunga Raya course features expansive water bodies set amongst the greens.
Singapore
Marina Bay Golf Course
The Marina Bay Golf Course is Singapore's only 18-hole public access golf course. Nestled in the shadow of the city-state's landmark attractions like the Marina Bay Sands complex, the course offers panoramic views of the Singapore skyline. The course has facilities for golfing by day and at night. The complex offers additional on-site amenities like a café, lockers for hire, a Pro shop, a golfing academy, a Spa and oddly enough even a car-detailing center.
Hong Kong
The Kau Sai Chau Golf Course
The Kau Sai Chau golf course operated by the Hong Kong Jockey Club is the only public access golf course in Hong Kong. Located on the islet of Kau Sai Chau and accessible by ferry from Sai Kung in the New Territories region of Hong Kong, the club offers three 18-hole golf courses. The Garry Player designed North and South Courses and the Nelson and Haworth designed East Course all offer stunning views of the leafy landscape of Sai Kung and the South China Sea. Other facilities at the club include a floodlit driving range, a practice area, a Pro shop and a café.
China
Mission Hills Golf Club
Golf is immensely popular in China. In fact, China is home to the world's biggest golfing facility, the Mission Hills Golf Club that extends over 80,000 square meters in Shenzhen, a town on the border with Hong Kong. This huge facility also extends into the neighboring areas of Dongguan and Haikou. Mission Hills along with its myriad accommodation and entertainment facilities offers a dozen 18-hole championship golf courses designed by many of the leading lights of the golfing world like Nick Faldo, Vijay Singh, and others.