The air travel industry is growing by leaps and bounds. As passenger traffic increases around the world, on ground facilities are also changing to adapt to new demands and needs of travelers. One such growing want is the accommodation of passengers who are required to spend a long duration or even a night at the airport.
Delayed or missed connections, inclement weather, long layovers are a part and parcel of modern day travel. Airports around the globe are gearing up to offer travelers a variety of 'rest' options including sleep pods for hire, padded recliners, lounges with shower facilities and full-service hotels.
We examine some of the best hotel options located within or connected to major international airports all over the world. Given the growing number of these hotels, spending a night or a long wait at a major airport doesn't seem as daunting a prospect as in the past.
North America
Toronto Pearson International Airport
The Sheraton Gateway Hotel is easily accessible via a climate-controlled walkway from terminals 1 and 3 of the Toronto International Airport. Aside from soundproof guest rooms, the hotel also offers amenities like a heated swimming pool; 24-hour fitness center and on-site restaurant and grill SPG members can avail of free Internet access at the hotel.
Vancouver International Airport
The Fairmont is a luxury hotel is located in Vancouver's International Airport above the US departures terminal. The hotel is completely soundproofed and offers day room packages between the 8am and 8pm. The facilities at this award-winning hotel include a restaurant, bar, an indoor pool and health club, and spa.
Dallas Fort Worth International Airport
The Grand Hyatt DFW is a luxury hotel attached to Terminal D of the Dallas Fort Worth hotel. The hotel offers a total of 239 rooms and suites and is accessible via Skylink High-Speed train or Terminal Link shuttle services of the airport. The hotel also has a limited number of rooms available for day room access. On offer at the hotel are an array of facilities and services including meeting rooms, laundry services, in-room dining, soda and ice machines and more. The hotel also features restaurants, a café and bar along with a 24-hour rooftop fitness center, a Spa and a heated outdoor pool. The hotel is within proximity to two golf clubs, the Cowboys Golf Club, and the Bear Creek Golf Club.  The Grand Hyatt is not the only hotel located at Dallas Fort Worth International Airport, another hotel from the Hyatt brand offering similar facilities; the Hyatt Regency DFW is located adjacent to the airport's Terminal C.

Boston Logan Airport
The Hilton Boston Logan Airport connects to the Terminals A&C of the Logan airport (International departure and arrival terminals) via a climate-controlled Sky Bridge. The Hilton Boston Logan Airport offers soundproofed guest rooms and suites outfitted with Wi-Fi and flat screen TVs. An indoor pool, fitness center, gift shop, and clothing store, on-site restaurant, bar, and cafe are included in its bouquet of amenities.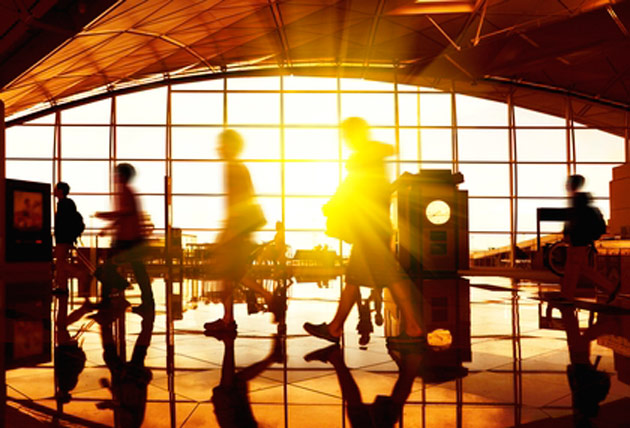 Europe
London Heathrow
London's biggest and busiest airport has two hotels attached to it. The Sofitel, reachable by covered walkway to Terminal 5 and the Hilton Hotel, which connects to Terminal 4 via a covered walkway. The Sofitel Heathrow is a luxury hotel that offers 605 plush rooms and suites outfitted with complimentary Wi-Fi services. The hotel also has three restaurants and two bars and a well-equipped spa apart from facilities for hosting meetings and conferences. Similar luxe accommodations are on offer at the Hilton London Heathrow Airport Hotel. The hotel offers 398 well-appointed rooms and has a variety of onsite facilities including a 24-hour fitness center, an indoor pool, a spa, a beauty salon, three restaurants and two bars. One of the hotel's bars is located on the rooftop alongside a man-made beach and is a favorite summertime haunt.
Amsterdam Schiphol
The Mercure Schiphol Terminal Hotel is a comfortable three-star hotel located within the transit area of Lounge 3 of the Schiphol airport. To stay at this Transit hotel, you have to have a ticket for an onward journey for that particular day or the next along your passport.  The rooms all feature en suite bathrooms and offer amenities like complimentary Wi-Fi, flat screen TVs and so forth. The hotel features a 24-hour self-service restaurant and has an on-site bar.
Frankfurt International Airport
The Sheraton Frankfurt Airport Hotel connects to Terminal 1 of the Frankfurt Airport by way of a covered pedestrian bridge. The hotel offers 1008 well-appointed, soundproofed rooms, which can also be reserved on a day basis as well. The hotel offers various categories of rooms geared for single as well as family travelers. All rooms are outfitted with free Internet access for one device. The hotel also features two restaurants, a bar, a cigar lounge and a café and full-service fitness-cum-wellness center.
Paris Charles de Gaulle
Paris's expansive Charles de Gaulle airport offers as many as five hotels within its environs. While The Hilton Charles de Gaulle and the Novotel CDG Terminal are within walking distance of Terminal 3, the Sheraton Paris Airport Hotel is reachable via a two-minute walk from Terminal 2. All three hotels offer day rooms aside from overnight stays.
Middle East
Dubai International Airport
The Dubai International Airport Hotel is an airside hotel located on the third level of the city's Sheikh Rashid Terminal. This luxe hotel is accessible from Concourse C in Terminal 1 and Concourse A&B of Terminal 3. The hotel offers a variety of rooms and suites at its three branches. Other facilities on offer at the hotel are a spa, swimming pool and segregated Jacuzzis and steam and sauna rooms.
Hamad International Hotel Doha
Doha's Hamad International Airport has an airside hotel just called the Airport Hotel. The hotel offers a variety of rooms and suites and provides services such as in-room dining. The hotel also has a fitness and wellness center, which is equipped with a swimming pool, gym and squash courts.
Abu Dhabi
The Abu Dhabi International Airport hosts' two hotels one is located in Terminal 1 and the second; the Premium Inn Hotel is accessible from Terminals 1 and 3, via the Skypark retail corridor. The comfortable rooms at the Premium Inn Abu Dhabi feature free Internet access and are elegantly adorned with modern-day conveniences. The hotel also offers a range of leisure and fitness facilities like a swimming pool, a whirlpool bath, and gyms.
Asia
Bangkok Suvarnabhumi Airport
The Louis'Tavern Transit Hotel Dayrooms Suvarnabhumi Airport is onsite at the Bangkok Suvarnabhumi Airport on the fourth floor of the International Departure Hall at Concourse G. The hotel offers an assortment of superior rooms and suites that feature free Internet access along with other conveniences. Other facilities include a massage salon, saunas and steam rooms for men and women and a barber and beauty salon and 24-hour restaurant.
Singapore Changi Airport
Singapore's much-admired Changi Airport offers four transit hotels. These include the Ambassador Transit Hotels at Terminals 1, 2, and 3 and the Crowne Plaza hotel located near Terminal 3. All four hotels located at Changi Airport offer travelers the chance to book rooms for day use.
Kuala Lumpur International Airport
The Kuala Lumpur International Airport has two hotels attached to its premises the Sama-Sama Express, and the Sama-Sama(adjacent to the airport connected via Skybridge). The Sama Sama Express hotel is only available for those travelers who are connecting to onward international flights. Passengers do not need to clear Malaysian Immigration and Customs to gain access to the hotel but have to produce boarding cards for their next flight at check-in.  Both the Sama Sama hotels offer sleek, modern, soundproofed rooms equipped with free Wi-Fi and other necessities such as flat-screen TVs with an array of satellite channels and in room coffee and tea making services. The hotels also offer rooms for day use with a minimum stay requirement of six hours.
Hong Kong International Airport
The Regal Airport Hotel is the transit hotel attached to Hong Kong's Chek Lap Kok International Airport.  An air-conditioned walkway connects the airport to Terminal 1. The hotel offers 1,171 well-appointed, soundproofed guest rooms and suites of various grades. On-site, facilities include a spa, restaurants, a business center, and a fitness center.
Indira Gandhi International Airport, New Delhi
New Delhi's Indira Gandhi International Airport hosts the Eaton Smart New Delhi Transit Hotel, which has outlets in both the domestic and international wings of the airport. The hotel offers well-designed rooms outfitted with amenities like free Internet access and LCD TVs with in-room entertainment. The hotel also features a dining lounge, a fitness center, a full-service spa, and business center.