If you are visiting Finland for business, then adding an extra day to visit Tallinn, the capital city of the small Baltic country of Estonia is well worth the trip. Finns travel to Estonia daily for work and shopping, so ferrying across the Baltic Sea is very simple and convenient, even for visitors.
For a day trip to Tallinn, hop on one of the fast ferry boats. From the Helsinki downtown harbor, there are three ferry lines to choose from: Viking Line, Tallink Silja Line, and Eckerö Line. All have good safety records, restaurants, and comfortable places to sit while making the crossing.
Travel Tip: Make sure you know which terminal you ferry leaves from. The harbor is fairly large, and the terminals are a distance away.
Ticket prices are affordable, but they will increase substantially during the summer high season. If you are traveling during summer, book early. Fall and winter prices start at about 10 euros, and you can usually get a ticket on the spot.
Business travelers enjoy Tallink Silja's new Megastar ferry because it has a business lounge with internet access. Don't gaze at your screen the whole time though – the Finnish archipelago views are beautiful as you are leaving and returning to Helsinki.
The Walled Medieval City of Tallinn
Within 2 hours or so, you'll set foot into the walled UNESCO World Heritage Old Town, a beautifully-preserved medieval city. It's best to get around on foot, navigating the maze of cobblestoned streets to the main square surrounded by 15th century architecture. Make sure to look up to see turrets and church spires, along with the city walls.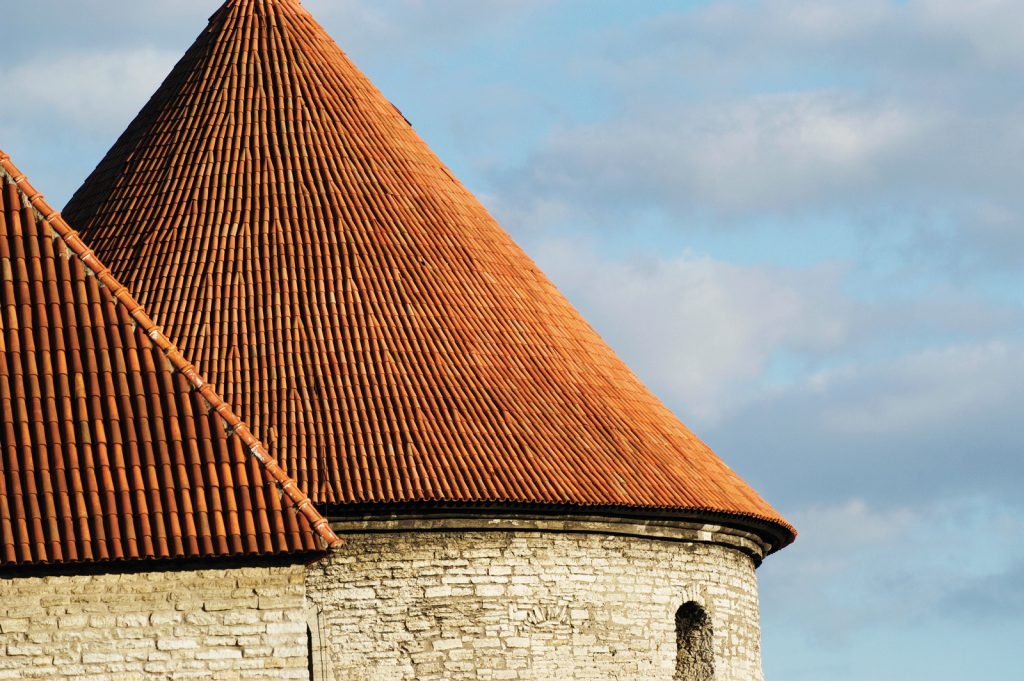 Tallinn has gone all-in on the Medieval "Old World" experience, but somehow they manage to pull it off. For the full effect, stop in for lunch at one of the restaurants and pubs with fully-costumed waitstaff. They will bring you food like elk stew and robust beers in pewter pitchers.
Our favorites include
Rataskaevu 16
Tallin's top-rated Estonian restaurant, conveniently named for its address, is on one of the more charming streets in the city. In warmer months, take your repast on the patio. We love the fried herring fillets, the home-baked bread and braised calf cheek.
Kompressor
A favorite among locals, Kompressor is an unassuming pancake pub nothing like IHOP. With 29 enormous sweet or savory pancakes, and great prices, you will want to come back. Try salmon and cheese followed by honey and banana. Be advised that long lines can form around lunch and dinner, so plan accordingly.
Walking off Lunch in the Old Town
After lunch you will feel like moving again, so make the climb up the tallest building in Estonia, St. Olaf's Church. It's 500 years old with more than 200 steps, but you are rewarded with a magnificent view of the old town at the end.
The fortified city walls have three towers that you can also climb - The Nunna, Sauna, and Kuldjala Towers. The passageways are steep and narrow, but it's fun to walk between them on the old city walls.
If you don't want to pay for the view, walk up the narrow, cobblestoned street to the free Kohtuotsa viewing platform on Toompea Hill. You'll get a sweeping view of the town all the way to the Gulf of Finland. It's even prettier in winter with a dusting of snow.
While you're on the hill, visit the Russian Orthodox Alexander Nevsky Cathedral.
If there's still time, pay a visit to Telliskivi Creative City, located in a former industrial complex on the outskirts of Tallinn. You'll find the hipster vibe in unique boutiques, studios, galleries, and eating establishments. If you're there on Saturday, stop by the flea market.
Make your way back to the harbor and hop on the ferry to cross the Baltic Sea once again to Helsinki. If you're hungry, we recommend the buffet where you can continue sampling fresh seasonal foods.
Flying to the Nordics for business?
Estonia is well worth a visit, especially if you are already visiting Finland. Fare Buzz has access to unpublished fares from dozens of business class flights every week to Finland, Estonia, and the rest of the Nordics and Baltic countries. We can help you make your trip memorable even before you leave.
Start here:
● Call 1-800-847-1963 to speak directly with a travel specialist
● Fill in the Request a Quote with your travel details and a travel specialist will research options and contact you shortly.
✈️ Search for Business Flights to Tallinn!