Before heading out on a well-deserved beach vacation, make sure you've packed your bag with all the essentials.
Before hoping on a last minute flight to a tropical beach vacation, making sure you've packed the right equipment can go a long way toward maximizing your fun in the sun. Some items are important for staying safe while others are all about ensuring your hard earned trip is as relaxing and enjoyable as possible. Next time you head to the shore, check your bag for these must-have beach items:
1. Sunscreen
Sun safety is always important, and no more so is that true than at the beach. Unless you've brought along a tent or umbrella, often the only thing standing between you and a potentially dangerous burn is a good sunscreen.
The American Academy of Dermatology recommended buying a broad-spectrum, water-resistant sunscreen with an SPF of 30 or higher. It is also a good idea to bring shades and a hat, and to not spend too much time in the sun without a break.
Sun protection is critical during any beach trip
2. A good phone case
Between the sand and the surf, your stylish phone case probably isn't going to cut it during a trip to the beach. You're going to want to take plenty of pictures, and a broken phone is an easy way to ruin any vacation.
Opt for a water-resistant case that will keep your phone safe from any hazards. Even so, make sure to keep a close eye on it because sand, ice cream and sunscreen can also be a risk to an unprotected phone.
3. The right towel
As BuzzFeed pointed out, retiring your old beach towel and opting for a new one is a great idea. Some newer towels are designed to dry you faster than traditional ones, while others may be circular for optimum tanning or have little pockets for keeping your valuables protected.
4. Pocket speakers
There are all sorts of portable speakers that can fit snuggly into your carry on bag en route to the beach, and these can be used to turn your vacation into a party. Using your well-protected smart phone, listen to your favorite jams while you play in the water or sand.
For beach-goers interested in relaxing, pocket speakers can be used to listen to a book on tape or catch up on an old podcast.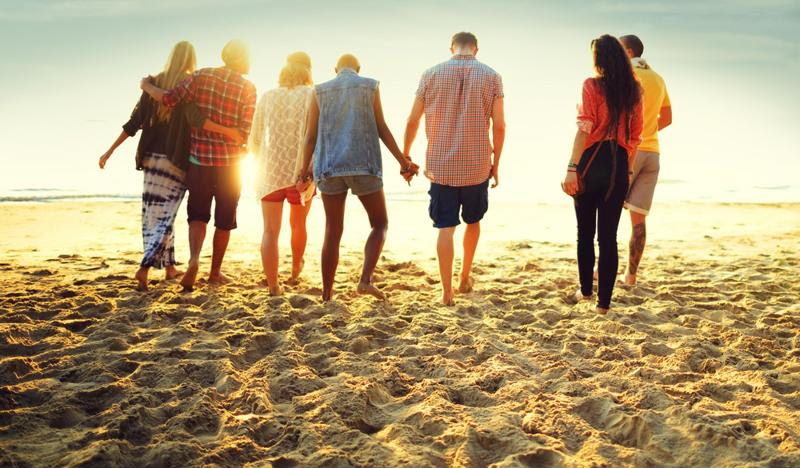 A fun beach vacation is made all the better with a little music
5. Waterproof playing cards
Bringing something small to the beach is a great way to pass the time, and Budget Traveler reported that waterproof playing cards are an easy but worthy investment. Play a few rounds of your favorite card game or invent a new one.
There are plenty of other small toys or things to play with that are great for a trip to the beach. For anyone traveling with young children, these can be especially nice because unlike traditional shovels or a football, these won't track sand into your bags and back to the hotel.
6. Your best beach accessories
Above all else, picking the right outfit for the beach is essential for looking and feeling your best while on vacation. Odds are you have a new or old bathing suit that you packed right away, but between sandals, hats and sunglasses, a trip to the shore is an opportunity to really go wild and accessorize.
Depending on where you are vacationing, there may be certain fashion tips to follow, as well as potential taboos or things to be aware of. For example, when traveling abroad or to a more secluded area, it certainly bodes well for any families to make sure there are no nude beaches around. Otherwise, your fun vacation could quickly become an embarrassing one.