Puerto Rico is buzzing again and eager for tourists to visit this year!
It's been more than a year since Hurricane Maria passed over Puerto Rico like a wrecking ball. The category 4 monster storm made landfall on the island and wreaked havoc causing much damage to life and property.
But the resilience and determination of the inhabitants of the "Island of Enchantment and the Land of a Thousand Blessings" has put Puerto Rico back in business! Most of the island's attractions and points of interest like restaurants, hotels, golf courses, and casinos, have reopened, and they need people to visit.
An easy hop from the United States
Puerto Rico is located in the Caribbean Sea not too far off the coast of Florida, making it an accessible destination for people living in the U.S. Since it's a U.S. territory, U.S. citizens don't need a passport and don't have to worry about currency conversion, as the U.S. dollar is legal tender. You don't even have to brush up on your high school Spanish because English is widely spoken.
Most of the island's attractions and points of interest like restaurants, hotels, golf courses, and casinos have reopened, and they need people to visit. Most airlines have resumed flights to the island, and affordable options for return flights to Puerto Rico are available from most U.S. cities. Moreover, the island needs tourism support more than ever now.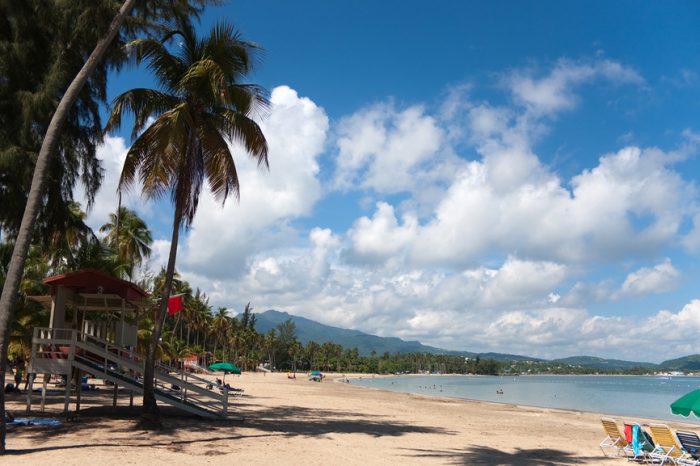 The Puerto Rican archipelago consists of the main island and several smaller stunning islands such as Culebra and Vieques. Listed below are some the island's famous attractions, which should probably be included on any travel-to-Puerto-Rico bucket list.
Use San Juan as your travel base
San Juan, the capital city of Puerto Rico, is home to the San Juan International Airport and the main access point for the territory. The city has recovered well from Hurricane Maria, and its bars, hotels, and restaurants are buzzing again. Tourists usually use the colorful and lively city as the base for their travels around Puerto Rico, but there are some great things to see and do here, too!
San Juan's Santurce neighborhood is a rapidly-gentrifying enclave which is well worth exploring as it features attractions like Lote23 - an outdoor food truck park perfect for sampling many cuisines. Safe time to visit La Placita, a lively market with many drinking and dining establishments.
Home to the San Juan National Historic Site, a UNESCO world heritage site, Old San Juan oozes with character and charm. Located here are points of interest that date back to Spanish rule like the forts of San Felipe del Morro and San Cristobal, San Juan de La Cruz, and the city walls.
The sites are enchanting but the grounds and fortification of the 16th century El Morro' are a favorite with locals and visitors alike. Evening strolls around the atmospheric grounds of the fort to take in the breathtaking sunsets over the ocean are a must do.
Take a ferry ride to the island of Vieques
The island of Vieques lies at a distance of 8 miles from Puerto Rico, and this former American Navy base has several attractions aside from its stunning beaches. The island is home to the Vieques National Wildlife Refuge and Mosquito Bay, a bioluminescent bay that exudes a gorgeous yet eerie blue glow thanks to the presence of bioluminescent creatures. This glow is brightest during the time of the new moon.
Beaches and more beaches
Did you know that Puerto Rico is home to some of the best beaches in the Caribbean?
Explore gems like Condado and Balneario de Carolina in San Juan or head out by ferry to the neighboring island of Culebra and discover the golden sands and azure waters of Playa Flamenco.
Discover a rainforest habitat
El Yunque is the USA's only rainforest habitat, which is home to over a thousand species of native flora and fauna. Parts of the rainforest are still to be cleared, but local guides have begun to direct tourists towards this lush land.
Sun and rum at the Bacardi Factory tour
San Juan is the home of Bacardi Rum and a tour of Casa Bacardi and its facilities doesn't disappoint. You can learn the history of Bacardi, taste the rums, take a mixology class, and even bottle your own Bacardi - as long as you are of legal drinking age. You can access Casa Bacardi by road or by ferry from San Juan. However, it's worth remembering that the factory is not open on Mondays.
Book your trip to Puerto Rico
Whether it's Spring Break week, your honeymoon, or a family getaway, Puerto Rico is back and open for business. This is a great time to visit, not only to support many businesses and families getting back on their feet after Hurricane Maria, but also because you can score some great deals with Fare Buzz!
To get unpublished rates, give our travel specialists a call at 1-888-847-1963.