Don't spend all winter dreaming about the summer - embrace the best of the season with a cozy winter getaway. Though it's cold outside, you and your loved one can cuddle up in a toasty cabin, ski lodge or bed and breakfast as you sip a mug of cider and watch the sparkling snow fall outside the window.
A perfectly cozy winter trip doesn't have to cost a fortune, though. Snag a pair of affordable tickets, pack your favorite sweater and head to one of these winter destinations.
Bavaria, Germany
Framed by the majestic Alps, Bavaria is a skier's dream - but it's also a wonderful winter destination for those not so skilled on the slopes. Venture from bustling and historic Munich and travel into the picturesque country side and hole up in one of Bavaria's many villages that seem to be torn straight from the pages of a fairy tale. Bavaria's Alpine culture is everywhere you look, from the latticed houses with their snow-capped roofs to the lively biergartens. Dig into pretzels and bratwurst - paired with a pint or two, of course - and savor the "gemütlichkeit," or German word for coziness, all around you.
Vienna, Austria
This grand capital city boasts a proud royal history with refined and elegant architecture to match. Tickets to this winter destination, though, don't cost the royal treasury. Some of the world's greatest composers hailed from Vienna, and the city is still abuzz with a vibrant cultural and artistic spirit. Vienna is magical in the winter, when white lights are strung across the cozy streets and locals bundle up in fur coats as they stroll down the sidewalks. After spending a few hours gazing at the many masterpieces housed in Vienna's several world-class art museums, settle into a coffee shop for an espresso. Vienna's coffee houses are some of the oldest in the world and are an important part of Austrian culture as a place for people to gather and discuss the news of the day. Follow suit and enjoy your coffee as you read the paper or watch the world go by.
Copenhagen, Denmark
Spend a little time in Copenhagen in the winter and you'll learn a new way to deal with the cold winter months. The Danish word "hygge" doesn't have a direct translation in English, but it roughly means the feeling you get when cozying up with loved ones when it's cold outside and the days are short and dark. Copenhagen locals deck their homes, taverns and restaurants with candles during the winter months, bring out the blankets and sip a delicious, sweet and slightly tart mulled wine, glogg. Venture outside to stroll down the snow-dusted cobblestone streets and canal of the historic harbor Nyhavn, then tuck into traditional open-faced sandwiches as you talk about the day with your loved one.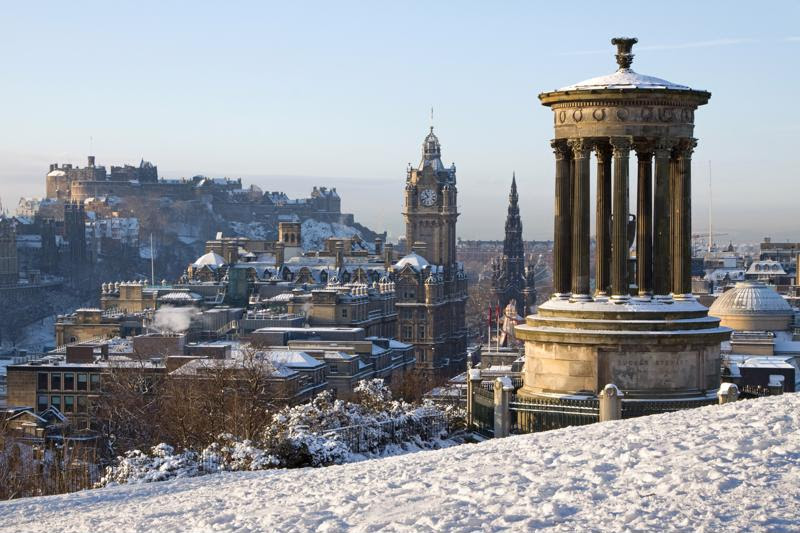 Edinburgh, Scotland
Nestled between ancient hills, dramatic Edinburgh takes on a new depth in winter. You'll be transported back in time as you wind your way up through medieval Old Town to St Giles Cathedral and Edinburgh Castle. On your way back down the hill, wind your way through a narrow alley to a lantern-lit pub, where you can warm up with a pint and haggis. An atmosphere of poetic romanticism hangs over the city, created by literary greats like Sir Walter Scott and Robert Burns, and on a cold winter's day, nothing is cozier than spending an hour amongst the books and spiral staircases of the Writers' Museum. Grab some cheap tickets and begin your Edinburgh winter adventure.