The Caribbean has some of the gorgeous beaches. But have you ever had a magical experience by spending an entire day on a river. If you haven't done so yet, it's about time to get your Caribbean vacations plan ready by now and enjoy whitewater rafting or get pleasant experience of floating down a lazy river on a bamboo raft or tube. Here are some of the places in the Caribbean such as the Dominican Republic, Puerto Rico, Trinidad and Jamaica, where you will find river tourism flourishing.
Trinidad
Trinidad is among the best places in the Caribbean to get a thrilling experience on a boat ride along the Caroni River to the Caroni Swamp. As the boat motors along the narrow channel you will catch a glimpse of a variety of wildlife and birds. The highlight of boat ride would be however before the settling in of evening when the boat passes by at the edge of a large lake. You will be amazed to see Trinidad's national bird, the beautiful Scarlet Ibis, on a tiny tree-covered islet visible at a distance from the lake. It's quite fascinating to see the Ibis settle in the branches and seems as though red flowers have bloomed in the branches of the islet's trees.
Puerto Rico
A river excursion in Puerto Rico is quite an amazing experience. Seek the services of a tour operator to enjoy a completely different kind of body rafting as you free-float downstream with soaring canyon walls on both sides. The tour includes body rafting down the Tanama River, rappelling, spelunking through caves, and rock climbing. A fantastic experience awaits you in Puerto Rico!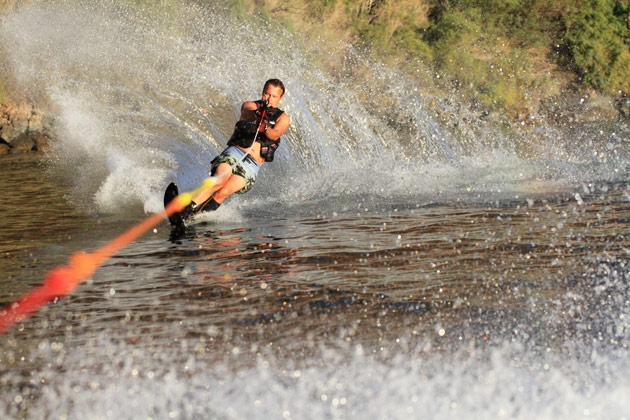 Dominican Republic
A rafting trip on Yaque del Norte River, in the Jarabacoa region, in the center of the Dominican Republic, is what is most sought after by all those seeking an adrenaline rush. Exciting white water conditions exist at the Yaque del Norte River, which also has class II, III and IV rapids as well. The "Tyson Rapid" is the high point with a knockout 12-foot vertical drop. You can also consider tubing excursion along the gentler stretches of the Yaque del Norte River.
Jamaica
Kayaking down the Martha Brae River is a great way to have immense fun in Jamaica. It's though quite challenging indeed. Trelawny Parish in Jamaica's tourism hub Montego Bay is the best place to book an excursion on the Martha Brae River. Here you will also come across many tour operators offering river adventure options such as tubing, kayaking and bamboo rafting. Whenever in Jamaica, don't miss out on exciting river adventures.