India's smallest state Goa is renowned for its gorgeous beaches, and beautiful Mandovi and Zuari rivers, better known as its lifelines. The two rivers are also among the busiest in the country. The state is also famous for its mangroves and backwaters. A kayaking expedition is the best thing one would ever ask for while on holidays in this picturesque state.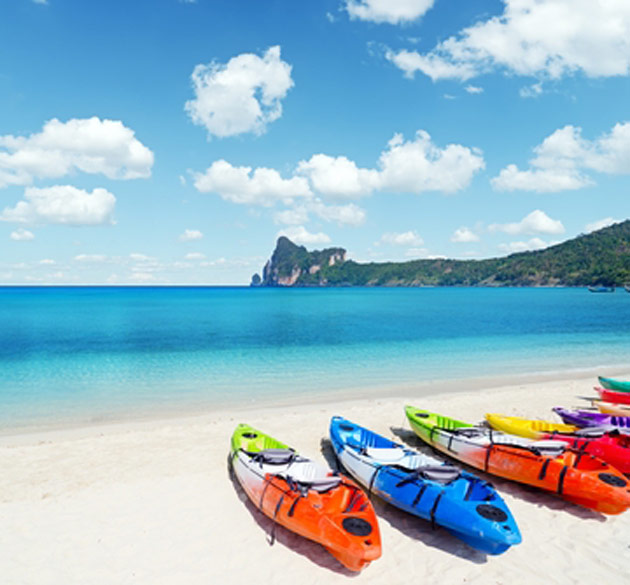 The months from October through May are the perfect time to visit the state for a kayaking expedition. Tourists from around the world are instantly attracted to Goa to enjoy kayaking because of its exotic beaches that are used as perfect bases to set off for paddling across the sea caves. During the process the tourists also indulge to snorkel the marine reserves and discover offshore islands.
For all those passionate about sea kayaking, the Dona Paula Beach is undoubtedly the perfect choice in the state. Kayaking is also organized by several popular clubs as well in Chicalim, Vasco Da Gama. The clubs here specialize in nature and ecotourism and can be used for multi-day kayaking trips, daily kayaking trips and other kayaking training trips. You can surely look forward to an unforgettable experience while on an exciting kayaking expedition in Goa.
If you are planning a kayaking holiday in this magnificent tiny state, you need to earmark at least one week or 7 days exclusively on the tour itinerary. There are many clubs and tour operators offering a fabulous experience. Just sample all that you expect to see and do during your 6 nights and 7 days excursion to Goa. Your trip will take you to Nerul River, Dona Paula Beach, Goan Backwaters, Benaulim and Sal Backwaters. Apart from the beaches and backwaters, you will get opportunity to see the Goa Chitra Museum, crocodiles and many species of fish and birds. There are many activities for you to indulge in during the week-long trip. These include snorkeling, scuba diving, Banana boat ride, parasailing and jet skiing.
Goa's vast blue water bodies and alluring beaches are the ideal places for your kayaking expedition. While immersing in the adventure and fun of kayaking, you shouldn't miss out visiting the historic museums and wonderful churches around the formerly Portuguese-ruled state. These will give you an insight into the vibrancy of the Goan people and their lifestyle. All along the kayaking tour you will also keep your taste buds tickling and hankering for more and more with the exotic and authentic Goan cuisines.
Here's what a short itinerary on kayaking expedition to Goa will typically look like. After arriving in Goa's capital city Panaji, spend the entire day relaxing and strolling in the streets. Set off for sailing in the Arabian Sea and kayaking in Sal backwaters on the second day. Your third day will be exciting as you can go for Banana boat ride, enjoy parasailing and jet skiing, head off for sightseeing at Goa Chitra Museum, and spend the remaining part of the hectic day shopping at the Colva Beach. On the fourth day of your stay, you can go for a short walking trip of Old Goa, participate in a scuba diving pool session, and go for a river cruise or a Crocodile Safari. Spend the entire fifth day snorkeling and scuba diving. Now you are into the final stage of your Goa sojourn. It is sixth day of your stay which you should entirely spend for kayaking in Nerul River. Your exciting holiday has come to an end and it's time for you to depart from Goa taking back along with you the fabulous experience and memories of your enjoyable holidays.