Los Angeles is one of the biggest and most iconic cities not only in the U.S., but the entire world. Much of this stems from its past and present (and most likely future) status as the nerve center of the American film industry. From independent art-house pictures to the slam-bang superhero adventures that bring people to the movie theaters in droves, every movie that's worth seeing (and plenty that aren't) pass through L.A. in one way or another.
This affords a unique opportunity to anyone visiting the city, whether it's on a business trip or as the vacation destination of a last minute flight. Because so many movies have been filmed in L.A. or the sprawl of the greater L.A. area, you can add visits to plenty of real shooting locations to your itinerary, even if you don't have a ton of time. Let's take a quick look at four of them that are easily found in the City of Angels:
1. Fox (a.k.a. Nakatomi) Plaza
Some believe "Die Hard," the film in which wisecracking police detective John McClane (Bruce Willis) fights back against hostage-taking thieves who crash a corporate Christmas party, to be the best action movie of all time. Whether you feel that strongly about it or not, you can visit the building that played the part of Nakatomi Plaza. Located along the Avenue of the Stars, It's actually Fox Plaza, headquarters of the Twentieth Century Fox entertainment studio, according to Mental Floss.
2. The Cowboy Palace Saloon
Located in the suburb of Chatsworth, this pub and restaurant, which bills itself as "the last real honky tonk," is about as country as it gets, from the decor to the live music. According to L.A. Weekly, it's also been used in multiple movies and TV shows, including "La Bamba," "Twins," "Justified," "CSI" and "Parenthood." Even if you're not one for line dancing, it's a fascinating place for some people-watching with a handful of cocktails.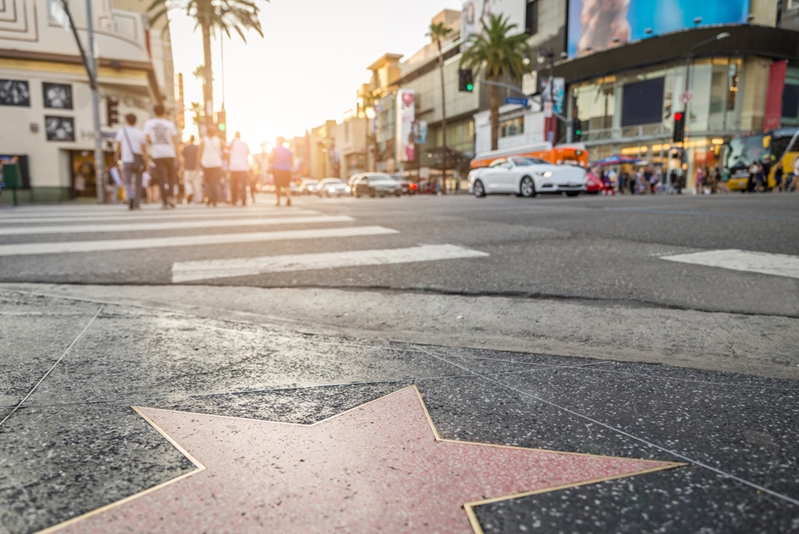 3. The Melody Ranch
While the Cowboy Palace claims to be a genuine outpost of country culture, if you want to check out where countless Western films have been shot, look no further than the Melody Ranch. You have to reserve tours in advance, but it's worth it.
According to its official website, Melody Ranch in Newhall, California, has been the site of gunslinging motion picture shoots since 1915. Epochal stars of the genre like Gary Cooper, Gene Autry and John Wayne filmed here, and in recent years it's been used for the remake of "The Magnificent Seven," "Django Unchained" and two HBO series - "Deadwood" and "Westworld."
4. Cicada
What's special about this restaurant on South Olive Street? Well, aside from being a Zagat-rated, highly-regarded eatery, it's also been used in quite a few films and TV shows due to its carefully preserved Art Deco design aesthetic. L.A. Weekly pointed out that scenes in "Mr. and Mrs. Smith," "Indecent Proposal," "Bruce Almighty" and the TV series Mad Men" have been shot here. It's also the site of the famously hilarious "snail" scene from "Pretty Woman."