It's not really much of an understatement to say that Atlanta is the crown jewel of the southern American states. The ATL, as the city is sometimes called in the vernacular of its robust hip-hop and R&B music scene, stands out as a center of international business, a hub for numerous media organizations, a growing locale for tech development and a cultural icon unto itself. (For those of you shouting, "But what about New Orleans​?," the Big Easy is more its own unique thing than a part of the South.)
"Cuisine is a major aspect of the Atlanta culture."
Cuisine is a huge part of that Atlanta culture. But because the ATL is so well-known as a tourist destination, it can be hard to find culinary spots that have lost none of their unique, regionally endemic character. We've thus labored to find you some more under-the-radar eateries:
1. The Sweet Auburn Curb Market
This actually isn't one eatery, but several under one roof: Established in 1923, the Sweet Auburn Curb Market is a thriving farmer's market, butcher, fish merchant and more, but locals know it as an excellent place to get lunch, according to the Atlanta Journal-Constitution. If you'd like to try authentic Southern cuisine, Sweet Auburn BBQ and Metro Deli Soul Food are your best options, but there are also Italian, Vietnamese and Mexican restaurants, and the legendary Grindhouse Killer Burgers.
2. Superica
Oddly, one of Atlanta's most successful restaurateurs, Ford Fry, is a native of Texas, and his establishments reflect that background by emphasizing Tex-Mex and barbecue on their menus. However, this is no reason to skip one of Fry's establishments if you get a chance to visit.
Located near the Krog Street Market, Superica can get a little crowded due to its connected live music stage, but it isn't about catering to tourists - outlaw country cult hero Billy Joe Shaver is a typical Friday-night act. The food is hearty, often robustly spicy and reasonably priced, with even the fanciest entrees ranging no higher than $30-$35.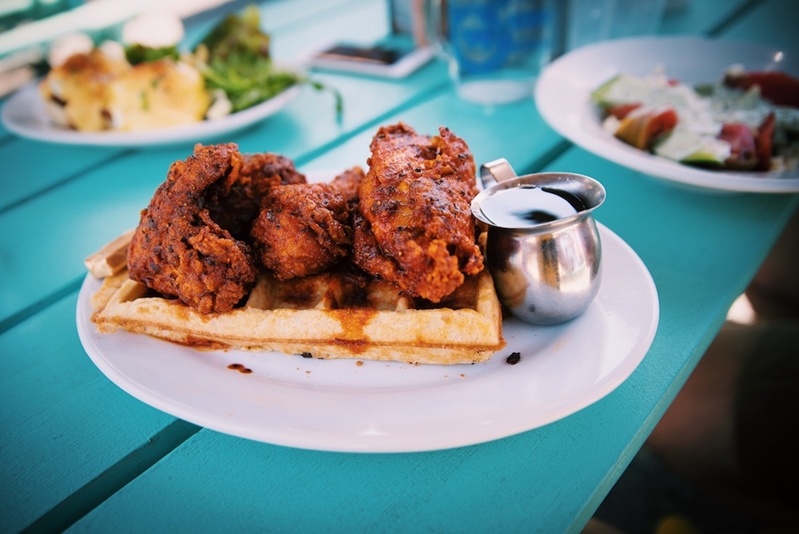 3. Egg Harbor Cafe
Breakfast is the most important meal of the day in the minds of many, and if you're in Atlanta and on the lookout for a place to snag some French toast, bacon and eggs or various other skillet specialties, look no further than Egg Harbor Cafe on Peachtree Northwest. It's part of a chain, but that shouldn't discourage you - the outstanding reviews from its customers on Yelp speak for themselves.
The egg dishes alone offer more variety than the average breakfast spot, with everything from chilaquiles, grits and eggs (a Georgia specialty) and shakshuka, a Moroccan breakfast entree featuring poached eggs inside a tomato, pepper and onion sauce. Even if you're waiting on a crowded day, Egg Harbor serves Intelligentsia coffee to those in line as well as its seated diners!
4. Mary Mac's Tea Room
This now-iconic establishment is, by Georgia state law, known as Atlanta's Dining Room, but it's so thoroughly Southern that it keeps out all but the more adventurous tourists. Traditional fried chicken with white pepper gravy, liver and onions, slow-cooked beef pot roast, okra with horseradish sauce and fried green tomatoes are the sort of "if it ain't broke, don't fix it" menu items you can expect to see here, alongside mint juleps (or sweet tea, for those who don't imbibe). You might want to eat light the rest of the day after visiting Mary Mac's, but it's worth it!