The Instagram version of "digital nomads" paints a picture of paddle-boarding in a tropical lagoon during the day while blogging about it with an umbrella drink in hand for a few hours in the afternoon followed by dancing the night away under the stars. It makes for pretty pictures, and yes, it's true that you can work anywhere on the globe as long as you are equipped with your laptop and phone, but increasingly nomads are choosing to stay put for a while.
Whether it's living internationally, embracing small town living or commuting a few days a week, today's digital nomads simply enjoy having the freedom to control their schedule and location.
Yes, you can basically work from anywhere
There are many jobs that you can do from the road, especially if the majority of your work is done online or in a digital workspace. You might have realized this the last time you went on a trip for business.
Say you had to travel from New York City to Dallas for a client meeting –  would working from the hotel drastically impede your work? Probably not – you can complete most tasks from your computer and call anyone you need to speak with back at the office. And if you can do it from Dallas, why not do it from Hong Kong or Seoul?
What do you need and where do you go?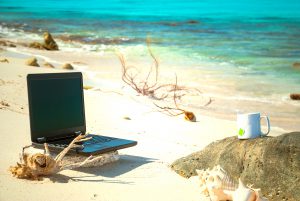 The most important part of living the nomad lifestyle is developing a sense of which cities or towns would be interesting to reside in, plus have the infrastructure you need. Services such as a fast internet connection and good phone service are essential to keep your business going. Also consider the cost of hotels or short-term accommodation, along with culture, weather, safety, and health care.
A good place for research is Nomad List, an online social platform for remote workers. Its crowdsourced database uses 250,000 data points to rank the best cities to live and work remotely.
Asian mega-cities Bangkok and Seoul are consistently among some of the best cities, but the list also includes much smaller Chenggu, Bali and quite a few Eastern European cities like Sofia, Prague, Tblisi. Buenos Aires is the top South American destination for digital nomads.
Plan the work, work the plan
The location-independent lifestyle is not quite as simple as jumping on a plane and going somewhere fun to work for a while. It requires preparation and forethought. But as with anything else worth doing, make a plan and then systematically work the plan. Here are some thing to think about:
Make sure you have a love for traveling and having new experiences. Without that, you'll be homesick and grow weary of your new lifestyle quickly.
Be willing to downsize. Decide how you will part with your possessions – put things in storage for an extended amount of time or get rid of them altogether? What is essential to carry with you and how will you get it to where you are going?
Drastically reduce or eliminate your debt. Pay off credit card debt and get a card that does not charge international exchange fees. Have enough money to cover student loan payments and any other outstanding debts for at least the first couple of months as you are getting into the swing of things.
Choose realistic destinations for your budget. After you peruse the Nomad List of cities, consider the cost-of-living in your favorite destinations. Southeast Asian or South American locations are generally more affordable, Eastern European cities are mostly comparable, and big cities like Paris and Shanghai will be expensive. Will you make enough money and also have enough for an emergency fund and travel or expat insurance?
Make sure your passport is current, you have correct visas, and you are up-to-date with your vaccinations before leaving the country.
In some ways, working remotely abroad is better than a vacation, because you get paid while traveling! With the right amount of passion and prepartion, it's worth the extra effort.
Ready to start your nomadic adventure?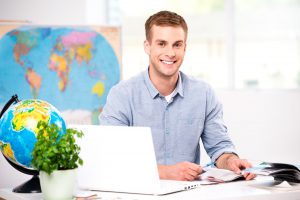 Something that the how-to articles forgot to mention is that having a travel expert on call to help you plan your travel can relieve lots of stress and worrying.
Fare Buzz travel specialists are available 24/7 at no extra cost to you. Where ever you are in the world, we can help you plan the next leg of your adventure and save you money – often with unpublished fares you won't find if you DIY.
Start here:
Call 1-800-847-1963 to speak directly with a travel specialist
Fill in the Request a Quote with your travel details and a travel specialist will research options and contact you shortly.