Paris and its surrounding Ile de France region are the essential epicenters of business and commerce in France and host industries such as banking, telecommunications, media, automobiles, oil and natural gas, and fashion and luxury goods. So aside from hordes of tourists, the city attracts a significant amount of business travelers year round.
If you are one such business traveler on a work trip to the 'City of Light' it need not be all work, and no play for there are many ways to enjoy the pleasures of Paris even though you may be busy with meetings, conference calls, and the like.
Schedule a museum visit after work
New York is often described as the city that never sleeps, but Paris is not too far behind. Museums in Paris stay open late once a week to allow people access who can't visit during the day. You can take advantage of this and schedule a visit to a museum after a long day of work.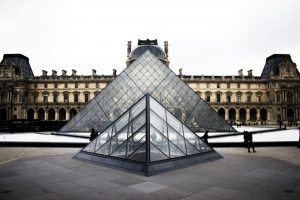 The Louvre stays open until 10 p.m. on Wednesdays and Fridays while the Grand Palais stays open until 10 p.m. on Wednesdays. On Thursdays, the Musee D'Orsay stays open until 9.45 p.m. while the Centre Georges Pompidou stays open until 10 p.m.. The Quai Branly Museum remains open until 9 p.m. on Fridays. Check museum websites for more details.
If you love alternative art, you may also want to explore the quirky art displays at 59 Rue de Rivoli, an art space which stays open until from 1 to 8 p.m. every day excepting Mondays.
Travel Tip: When on an abbreviated schedule, we suggest a private guide, like one from City Wonders. They are not expensive, and can whish you past lines, down back stairways, and they make sure you don't miss the most important things in the collections.
Explore Parisian gastronomic delights
Paris is teaming with excellent, eclectic, and highly ranked eateries. No doubt your colleagues and business associates will entertain you at some of the best-regarded spots. However, if you would like to dine and view some of Paris's well-known sights simultaneously, you might want to reserve a table at 58 Tour Eiffel Restaurant housed in Paris's most famous attraction - the Eiffel Tower.
Unfortunately, Alain Ducasse's Michelin-starred Le Jules Verne has closed, but you can eat at his floating restaurant, Ducasse sur Seine, on the Seine - moored at the foot of Paris' iconic landmark.
A similar experience can be had at the Centre Georges Pompidou, which is home to the National Museum of Modern Art. The museum shuts at 9p.m., but it houses a modern French cuisine restaurant called Georges which stays open until midnight and offers glorious vistas of this exciting city.
'See' the sights aboard the Batobus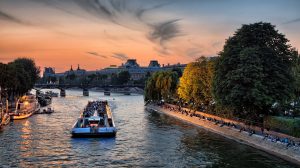 Paris boasts of many beautiful historical sites. On a business trip, you perhaps may not have the time to wander around and peruse these attractions. However, if you have a few hours between meetings you can ride the Batobus the city's river transport shuttle service, which plies on the River Seine and makes nine stops at the most well-known sights in Central Paris such as the Notre-Dame, the Eiffel Tower, the Louvre, the Champs-Élysées, and others
Go wine tasting
French wines are as well known and well loved as French cuisine. Vineyard and Chateau tours are a favored tourist experience when visiting France. You may not have the time to travel outside of Paris to visit vineyards, but if you are a wine lover, you can visit Le Clos de Montmartre, a vineyard in the heart of the city located in the vicinity of the Sacre-Coeur. The vineyards are open to the public only during the annual wine festival, Fête des Vendanges, during the month of October.
Wine-tasting sessions are also on offer daily at the O Chateau wine bar in the heart of the city. The establishment can even arrange a day tour to the Champagne region if you happen to have an extra day in Paris.
Visit a Parisian Market
A market is the lifeblood of a city, and Paris hosts several outdoor markets daily. So if you have time before or even after your meetings discover what makes Paris tick by visiting its vibrant and lively markets which host not only vendors of fresh produce, fruits, meats, and flowers but also have cafes and eateries where you can grab a bite and have a drink.
Much-visited Parisian markets include Marche d' Aligre, Marche des Enfants Rouges, and Le Marche Saint Germain amongst others.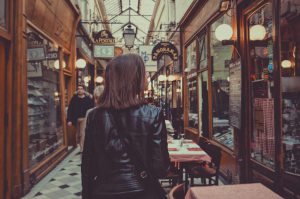 Another beautiful place is the Passage des Panoramas a covered walkway built in 1799, that has kept its old-fashioned charm.
Take a day trip out of Paris
If by chance you have a free day on your business trip to Paris, or you decide to extend your trip for bleisure, you perhaps should arrange to take a day trip out of Paris. Travel out of the city to take in more of the stunning French countryside and explore attractions and destinations such as the Palace of Versailles – 45 minutes on the RER C line.
Travel Tip: Try to visit on a Wednesday or Thursday when Château de Versailles isn't so crowded. Buy a round trip ticket so you can avoid the long lines at the end of the day.
Other trips in the region include the Champagne region and the Normandy beaches and war memorials.
Book your business trip to Paris

With multiple flights a week from the USA to Paris, Fare Buzz travel specialists can navigate all of them to find a discounted fare that matches your travel needs and budget.
Start here:
Fill in the Request a Quote with your travel details and a travel specialist will research options and contact you shortly
Call 1-800-847-1963 to speak directly with a travel specialist
Your personal travel concierge is on call 24/7 to provide you with customer support and assistance with trip planning or adjustments when you need it.