Once you land on the island there will be no shortage of fun things to do, but if you feel overwhelmed, check out this list of some of the best activities for couples and families.
No matter what the time of year, Jamaica is one of the most beautiful islands on the planet. There's a rich culture to enjoy, lots of white sand beaches and all the delicious food you can eat. And the springtime is one of the best seasons to get cheap tickets to Jamaica. Once you land on the island, there will be no shortage of fun things to do. But if you feel overwhelmed, check out this list of some of the best activities for couples and families.
1. The beaches of Montego Bay
For maximum comfort and a luxurious chance for relaxation, there's no better place than Montego Bay. It's many resorts and beaches all have one goal, which is to pamper their visitors. Grab a pair of cheap tickets to Montego Bay for you and your special someone and it'll make for a vacation you'll never forget. The official tourist board boasts of the area's many pristine beaches, golf courses, art museums and exciting water sports. There's something for those days when you want to nap on a beach, and for those when you desire to bounce across the waves on your very own jet ski.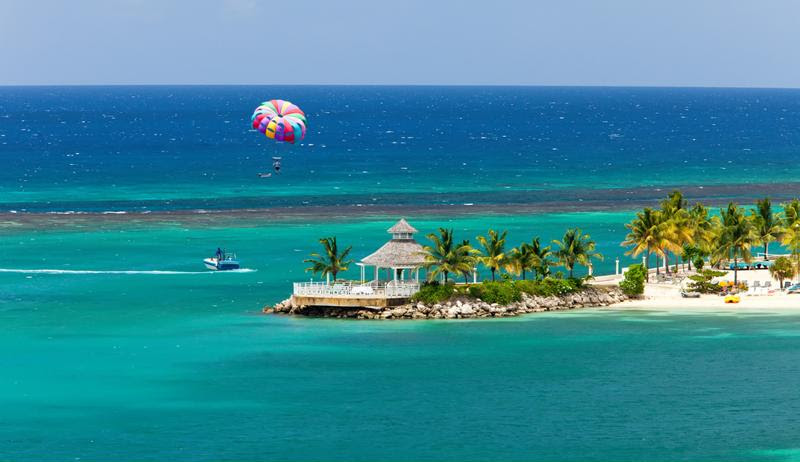 There's lots of fun to be had on Jamaica's beaches.
2. The Bob Marley museum
Reggae fans won't want to miss out on a trip to the famous musician's house, which has been converted into a museum. Once you land in Kingston, it's only a short drive to this historic site. According to the official website, the establishment offers an hour and fifteen minute tour through the star's life, and on your way out you can buy some fun memorabilia.
3. The Dolphin Cove
They say Dolphins are some of the smartest animals on the planet. They are also among the friendliest! Once you have your plane tickets to Jamaica, the next thing you should do is plan your trip to Dolphin Cove. Fun for the whole family, you'll be able to laugh, play and swim with the friendly creatures. Be sure to pack your camera, as you'll cherish these memories for the rest of your life.
Swimming with the dolphins is something you'll never forget.
4. Rose Hall
If you're looking for history - and maybe something that's a little spooky - then don't miss out on a visit to Rose Hall. There, you will find a gigantic mansion with sprawling green grounds. Legend has it that the magnificent residence is haunted by the ghost of Annie Palmer, a former owner of the estate also known as the White Witch. And when you've had your share of ghosts, stay for an 18-hole round of golf on the estate's lush greens.
5. Falmouth
According to PlanetWare, Falmouth is a wonderfully preserved 18th century town, complete with picturesque houses, sprawling estates and a peaceful beach. To one side of the town is the Luminous Lagoon, which actually glows - benignly - under a full moon. Flights to Jamaica are very affordable at this time of year, so there's no reason not to visit this magical island. With glowing waters, haunted mansions and an awesome surf scene, there's something here for everyone.